Ethiopian athletes dominate Tokyo Marathon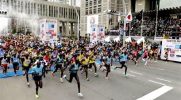 Ethiopian athletes dominate the annual Tokyo Marathon this morning winning both in men ad women's category.

Ruti Aga, who finished 2nd last year Tokyo Marathon, wins this year's Women's Marathon in Tokyo, Japan, clocking 2:20:40. Another Ethiopian, Helen Tola finished 2nd finishing 21 seconds later.



In the Men's Tokyo Marathon category, Birhanu Legesse wins the finishing at 2:04:48 ahead of Kenyans Bedan Karoki, who clocked 2:06:48. The third place is taken by another Kenyan Dickson Chumba who completed at 2:08:44.
Tokyo Marathon EXPO 2019 is the biggest running trade-show in Japan. You will have an opportunity to experience the latest running gears, apparels and demonstrations from exhibitors regardless of age, gender, nationality, occupation or experience.