Ethiopian athletes shine at Paris marathon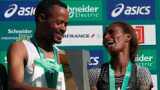 Ethiopian athletes participated in the Schneider Electric Paris Marathon, an IAAF Gold Label road race, shine on Sunday winning gold medal in both men and women categories.

In the men category Abrha Milaw finished the race at 2:07:05, while another Ethiopian Asefa Mengistu, a past winner in Seoul, Cape Town and Bloemfontein, secured the silver medal finishing 20 seconds later. For the past two consecutive rounds, Paul Lonyangata of Kenya was the winner of pairs marathon. But yesterday Abrha made a big surge with three kilometers remaining, building a four-second gap on Lonyangata and Asefa.



In the women category Gelete Burka wins at 2:22:47 followed by another Ethiopian Azmera Gebru, who completed the race five seconds later. Azmera Abreha finished at 2:23:35, six seconds ahead of Clémence Calvin of France whose 2:23:41 performance broke the French national record.
In a related development, last week Ethiopian government honors participants of the 43rd edition of the IAAF World Cross Country Championships at a state dinner. The Ethiopian athletes participated at the cross country brought home 5 gold, 3 silver and 3 bronze medals, taking 1st place among 63 countries.
At the ceremony Prime Minister Abiy Ahmed awarded the leadership of the committee and high performing athletes with certificates of recognition and financial rewards, according to the statement from the Press Secretary of the Office of the Prime Minister.
The statement indicated that renowned athlete Feyisa Lelisa, also present at the dinner, was honored in a special category, as part of the celebratory evening, for his silver medal victory at the Rio 2016 marathon.