Coca-Cola concludes Coke Studio Africa program in Ethiopia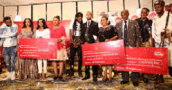 The Coca Cola company celebrates the official closing of its epic music flagship platform, Coke Studio Africa, in Ethiopia.

Coke Studio Africa, launched in early February, concluded its 2019 season with a historic season grand finale, featuring an all-female ensemble, which was aired on April 7th, on Kana Television. To commemorate one of the most exhilarating Coke Studio Africa seasons to date, the Coca-Cola system held a memorable closing event at the new, luxurious Skylight hotel, in Addis Ababa.



Coke Studio artists and charity organizations, Coca-Cola disclosed the amount of collected funds from Coke sales to be awarded to 3 selected charities. The local charities in question are Organisation for the Development of Women and Children in Ethiopia (ODWACE), Talent Youth Association (TAYA) and Organisation for women self-employment (WISE). ODWACE works with women and girls to create awareness on harmful traditional practices, while TAYA empowers youth to be productive and lead successful lives; WISE focuses on supporting women and girls with self-employment opportunities to build their economic status.
The charity campaign was initiated by Coca-Cola's pledge to donate 1 birr for every Coke in a plastic bottle purchased over a period of three months, with the slogan "Drink for Goodness". To facilitate the charity campaign, Coca-Cola set up a voting platform whereby the public can access Coke's Facebook link and app to nominate their preferred charity. In addition, Coca-Cola also designed unique labels featuring photos of this year's Coke Studio Africa artists on plastic bottles of Coke to engage the public.
During the press conference, Tigist Getu, Coca-Cola Ethiopia and Horn Brand Manager stated, "This year's Coke Studio Africa was very special for us! We had incredible artists representing Ethiopia, who gave stellar performances and showcased our unique traditional musical instruments to the world."
When asked about the charity campaign, she added, "We are very happy to support communities through the charity campaign. We were able to raise a total of Birr 6, 086,376 from the campaign and we will divide the collected funds among the 3 charities."
In the 2019 edition of Coke Studio Africa, Ethiopian artists joined well-known artists from across Africa to create music fusions through memorable collaborations. Artists who represented Ethiopia in this year's Coke Studio Africa, Abush Zeleke, Mahlet G/Giorghis, Yared Negu, Bisrat Surafel and Rophnan Nuri shared their experiences, during the press conference.
The Coke Studio closing event was comprised of a press conference followed by a cocktail party, attended by members of the media, Coca-Cola representatives, Coke Studio artists and invited guests. During the highly anticipated night of music and entertainment, invited guests stood eagerly waiting for Mahlet G/Giorghis, Yared Negu and Bisrat Surafel to give live performances.