Air Djibouti to add five new destinations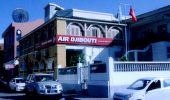 By Andualem Sisay Gessesse – Expanding its business, the national carrier of Djibouti, Air Djibouti, is set to start five new destinations in Africa and the Middle East. The new destinations will be commence in January 2019.

"We are going to start five new routes very soon in one month. We are going to start flying to Nairobi, Khartoum, Cairo, Jeddah and Dubai," Mahad Hassan Ahmed, the only Djiboutian Pilot at Air Djibouti at the moment.



"Air Djibouti is currently growing very fast. We used to have one aircraft about a year ago. Now we have four air crafts. We are going to get three more air crafts soon. We have six active regional routes right now," he said.
Currently 14 new student pilots are sent to Nairobi, Kenya of which the first four are girls, who will be Air Djibouti's first female pilots. The pilots are expected to complete their studies in one year and half, according to Mahad.
"At the moment globally we are feeling now pilots' shortage. That is why we are training our own pilots," he said. He also told NewBusinessEthiopia.com that as soon as the company secures Boeing 737 and Air Bus, Air Djibouti will also to start flying to Europe and the United States of America.
The aviation industry has been growing at around 7% per year globally. In Africa the growth is around 10% per year.
At the moment Air Djibouti is flying to Dire Dawa and Addis Ababa to Ethiopia, Eden in Yemen, Mogadishu, Hargessa and Bossaso in Somalia. The company is also planning to increase the total number of its staff from 250 to 400.
Out of the current staff, all of the officers are foreigners, except few managers. Out of the total the share of expats is around 5%, including three pilots according to Mahad.
Air Djibouti is currently has workig partnerships with Kenya Airways and Air France. In 1963 Djibouti introduced its national carrier, The Red Sea Airlines. Meanwhile, it ceased operations in 2002. The smallest country in the East Africa has started Air Djibouti late 2015.