African Linked creates community for digital citizenship passport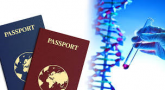 African Linked is set to change the narrative that surrounds the concept of global citizenship by connecting the best minds in science, technology, engineering, medicine, artificial intelligence throughout the global African Diaspora by creating one assembly through innovation and social engineering for the betterment of all.

The platform is looking to use DNA to literally take each individual to their nation, village, tribe, and family, ultimately tackling the brain drain that has bedeviled the African continent for centuries. The world has become a global village, as in addition to the advancement of technology, making it easy for people to interact regardless of their location across the globe, migration has increased over the years, with millions of people crossing borders for different reasons. Unfortunately, it has become increasingly difficult for Africa and Africans to harness their resources effectively and make the continent better.



This is particularly worrisome, considering that the world has gotten wealthy because of the vast resources of Africa. This is where African Linked is looking to make a difference by leveraging technology to transform Africa's manufacturing, industrialization, economic diversification, and resilience.
In a similar vein, African Linked recently organized an event that was held on October 24, 2019 at the New Direction Banquet Hall in California. Tagged the 1st Annual "African Linked" Diplomatic Gala, the event featured Ambassador Dr. Clyde Rivers, founder of iChange Nations, and the Keynote Speech on behalf of Union Nations. The event was also endorsed by Ambassador Dr. Arikana Chihombori-Quao, with speakers including Dr. Mike Kingsley, Dr. Erick Hall Sr. The guests at the event were selected from all walks of life. Some of the names on the guestlist include Terrence Lee, Robert Rosario, Moses Mpanga, Brad Muncy, Alicia Hamilton, Paul B. Delano, Charmaine P. Hall, Percy Kandukira, Gerald Fritz, Morris Leonard, and Al Hollingsworth.
African Linked has collaborations with several companies like; Aldelano Solar Coldbox, Eco-Gen Energy, The GIH Company, IncuBiz Marketing Agency, JD Euroway, Universal Citizens Network, Operation Wealth Creation, Mohexim Global Exports and Pan African Trade Services, to Change the Narrative by establishing a strong economic Africa uniting the global Diaspora community to Make the Africa We Want. The African Linked community is looking to unite and help Africa build a stable and peaceful Africa with inclusive societies for sustainable development that benefits the world.