Ethiopian parliament lifts amnesty of Tigray leaders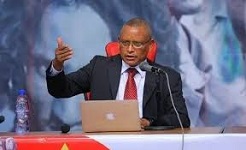 The House of Peoples Representatives of Ethiopia (Ethiopian Parliament) today lifted amnesty of the leaders of Tigray Region of Ethiopia including the president Debretsion Gebremichael (PhD).

The list of individuals whose amnesty is lifted today members of the Tigray Peoples Liberation Front (TPLF) and were members of Ethiopian parliament. The Parliament lifted the immunity of 39 members of parliament after request of the Office of Federal Attorney General, which suspected the individuals for crimes.



The crimes the individuals are going to be charged for includes using arms to massacre soldiers of the federal government army, among others, according to the information from the ruling party affiliated media FBC report. Among the top TPLF leadership suspected of the crimes whose amnesty is lifted today include Asmelash Woldesillassie, Abay Tsehaye, Ambassador Addisalem Balema (PhD), Getachew Reda, Atsbeha Aregawi, Gebregziyabher Araya, among others.
The decision of the Parliament came a week after the TPLF leadership has reportedly ordered regional militia to attack northern command post of the federal army based in Tigray Region of Ethiopia, which led to a military confrontation.
The remaining list of TPLF leadership and House of People Representatives are>
– Lemlem Hadgo
– Atsbeha Aregawi,
– Tadesse Haile
– Dr. Mebratu Meles
– Gebegziyabher Gidey
– Alefom Gidey
– Hadush Azanu
– Mebrat Gebregiorgis
– Mulu Gebregziyabher
– Lielti Tsegaye
– Mahmet Tesfay
– Mana Abreha
– Kalayu Gebrehiwot
– Million Hailesillassie
– Berhe
– Tadele Assefa
– Nega Assefa
– Nafekusg Desse
– Sishay Habtessillassie
– Almaz Araya
– Aregawi Atsbeha
– Aselefech Bekele
– Aster Amare
– Alemseged Wereta
– Dr. Adhane Haile
– Kiros Weldemichael
– Shumiye Gebre
– Kassa Gugssa
– Aberash Admassu
– Yohannes Bekele
– Dagnew Belete
– Sewhabt Tadesse
– Winta Teklu
– Girma Shadi
–