Ethiopia updates media on humanitarian response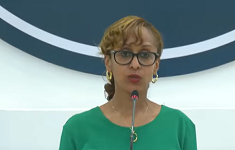 The Federal Government of Ethiopia on Tuesday has released a humanitarian response update in relation to the conflict in northern part of the country.

At a press conference the Press Secretary at the Office of Prime Minister of Ethiopia, Billene Seyoum, said that in Amhara region the spillover of Tigray conflict in Amhara region displaced more 1,411,313 people in the region.



"Following the recent military victories against TPLF forces in Amhara region, the Government has allocated 28,065 MT food items for more than 2 million people in 24 woredas of North Wollo, North Shewa, and South Wollo. Since Government is the first respondent during emergency situation the first 13 trucks loaded with 5,390 quintals of different kind of food have been dispatched to Gashena and Lalibela," she said.
In Afar region more than 1.3 million People in need of immediate Emergency Response and 376,000 People Displaced from 17 woredas (districts), according to Billene. "Partners distributed 64,232 quintals of food to conflict affected people. 7,500 Emergency Shelter and Non-food items distributed in Gulina and Chifra woredas."
Commenting on the situation in Tigray region she also raised the following points:
– UNHAS resumed flights between Addis Ababa and Mekelle.
– Four (04) return flights conducted from Addis to Mekelle and from Mekelle to Addis since the resumption.
– A total of 203 trucks have arrived into Tigray with humanitarian supplies arrived in Mekelle.
– Some members of the international community that have been raising concerns about lack of humanitarian assistance to the Tigray region are still quiet on the holding of around 900 trucks by TPLF that could be used to transport food and non-food items.
– Yet TPLF is still using these trucks to move around its combatants and to transport looted items from areas it is being routed out from. The double standard exhibited in this regard as well as the silence to TPLFs vast human rights abused being conducted in real time is questionable.



In relation to the Ethiopians in the diaspora, she extended her government's gratitude for actively engaging on multiple fronts. It is recalled that the Government of Ethiopia has called on one million Ethiopians in the diaspora to come home for the celebration of the Ethiopian Christmas (Genna), which will take place after about one month.
"The reception by Ethiopians worldwide to the Great Ethiopian Homecoming challenge is positive. Your national carrier Ethiopian Airlines has announced 30% off on bookings made till December 20th. Similarly, the Ministry of Tourism which is leading services under this challenge has earlier today made announcements in relation to the call. So once again to extend that challenge to Ethiopians all around the world and friends of Ethiopia," Billene said.