Why old industrialization pathways won't work for Africa
As the world is embracing new technologies such as 3D printing, Africa is likely to lose hundreds of thousands of jobs in the manufacturing sector. Unless the continent embraces these new technologies and diversify its economies, it will lose many jobs like witnessed in countries like China and other developed nations, according to issue paper by UN Economic Commission for Africa (ECA).

The issue paper, "Sustainable industrialization and diversification of Africa in the digital era in the context of COVID-19", which is set to be presented at the upcoming African economy ministers meeting suggests that these technologies offer new opportunities. "3D printing is already enabling smaller African businesses and entrepreneurs to participate in manufacturing in ways once unique to large, State-backed enterprises. For instance, Kijenzi uses 3D printing to provide medical components for rural clinics in Kenya, while Akhani 3D printing uses a range of technologies in South Africa."



But if African countries fall behind in the adoption of these new technologies, they risk losing out, the paper argues. "For instance, rather than locate a shoe factory in Africa to benefit from lower wages for labor, a manufacturer may instead set up a 3D printing plant in Germany. And, even if manufacturing moves to Africa, the valuable parts of pre- and post-production may remain elsewhere. With 10 million–12 million African youth entering the workforce each year, the other big implication for Africa is employment."
It stated that just as artisanal weavers were displaced by the weaving loom in the First Industrial Revolution, so too is the Digital Revolution automating and displacing today's routine tasks and jobs. The estimated potential of this displacement varies widely by study, from as little as 6 per cent to as much as 77 per cent of all jobs around today.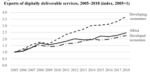 These forecasts are tentatively emerging in the data. The share of total jobs that are in industrial manufacturing has been slowly falling, from 15.3 per cent in 2000 to 14.2 per cent in 2018, and is predicted to fall to 13.2 per cent in 2022, according to ILO projections.
"So far, much of this decline has been in high-income countries, which have shed just over 13 million manufacturing jobs since 2000 (a decline of 17 per cent), although China – which hosts 36 per cent of the world's manufacturing jobs – has also lost over 9 million manufacturing jobs since their peak in China in 2014,"it said.
The issue paper stated that although Africa has so far weathered this trend – African manufacturing jobs have increased by 820,000 on average in each of the past five years (ILO, 2019) – the world's share of jobs in manufacturing may continue its decline as a result of digital automation, reducing the number of "could-have been" manufacturing jobs available to relocate to Africa.
"With 160 million African young people entering the workforce between 2020 and 2030, policymakers must look into new ways to diversify their economies and create decent jobs. The old pathways to industrialization are no longer an option," it said.