Ethiopia charges seven army generals for treason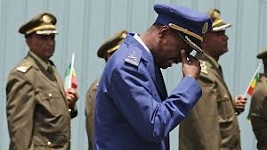 Seven Ethiopian Army generals today appear court in Addis Ababa for allegedly conspired with the Tigray Peoples Liberation Front (TPLF) "junta", which attacked northern army command in Tigray Region last week and massacred many soldiers.

The military generals have disconnected the northern command by reprograming radio communications to help TPLF militants launch a military attack on the federal army northern command in Tigray Region, according to the charges brought against them.



The suspects have denied their involvement in the mentioned crimes. Indicating the complexity of the issue the suspects are accused of, which includes armed rebellion against the government of Ethiopia, the court has given ordered the police to bring the suspects after 14 days compiling its additional evidences.
Major General Gebremedhin Fikade, Major General Yirdaw Gebremedhin, Brigadier General Gebrehiwot Sasuniyos, Brigadier General Ansu Yijajo, Brigadier General Fiseha Gebressilassie, Colonel Desalegn Abebe, and Colonial Eyasu Negash Tesema, according to the state broadcaster ETV, which indicated that the individuals are also accused of collaborating with Oromo Liberation Front (OLF) Shene to be engaged in terrorist activities in the country.