Addis Ababa Police seizes 18 bombs, over 700 weapons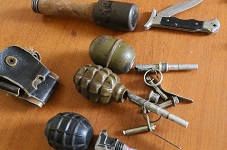 In collaboration with the national intelligence and the Addis Ababa Police Commission has seized over 700 illegal weapons including 18 bombs and explosives.

It is indicated that including 4,625 bullets bullets, GPS, military radios, the Police has seized 744 illegal weapons with individuals who during the recent police raid. Some of the illegal weapons were found in the head office of Sur Construction located on Bole Road. Sur Construction is one of the many endowment companies owned by the Tigray peoples Liberation Front (TPLF), which has been engaged in a military confrontation with the federal government since last week November 4, 2020.



The federal government led by Prime Minister Abiy Ahmed stated that it has launched a defensive attack on the TPLF junta, which has attacked the federal army based in Tigray Region to rob heavy military artilleries.
Along with the illegal weapons, Addis Ababa Police has arrested 242 suspects, including members of the Oromo Liberation Front (OLF) Shene, another extremist armed group that the government says has been collaborating with the TPLF and engaged in killing innocent people in different parts of the country. The Addis Ababa Police Commission has urged the public to be careful and report whenever they see suspicious goods left unattended.