Capital markets, high impact sectors in Africa secure funding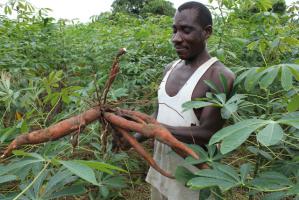 Overseas Private Investment Corporation (OPIC), the African Development Bank (AfDB) and ALCB Fund Board Members have signed a loan agreement to support high impact sectors in Africa focusing on housing, agriculture and SMEs.
OPIC contributed US $40 million to the Fund while the African Development Bank is providing a Senior Loan of ZAR 140 million ($10 million) to support the development of local currency corporate bond markets in Africa.
The latter loan was first local currency financing obtained by the ALCB Fund. The Fund was incorporated in December 2012 by the German Development Bank (KfW), with initial paid-in capital of US $47 million.



Jim Polan, OPIC Vice-President for Small and Medium Enterprise Finance; Pierre Guislain, African Development Bank Vice-President in charge of Private Sector, Infrastructure and Industrialization; Vitalis Ritter and Mark Napier, Board members of the African Domestic Bond Fund, signed the agreement.
Many local financial institutions and companies in Africa are new to capital markets transactions and to working with institutional investors. The ALCB Fund engages with financial institutions and companies at an early-stage of the funding process, helping them to understand whether a bond issuance is the right path and the process involved.
It also seeks to address a number of challenges in African capital markets, including limited primary issuances, price transparency, and limited participation by local market investors.
"Capital markets in Africa are both a challenge and opportunity," said Polan. "This fund will have a tremendous impact by increasing the amount of long-term local currency financing available to companies operating in impact sectors. OPIC looks forward to working with its partners on this innovative fund and facilitating sustainable economic opportunities in Africa."
"The development of well regulated, deep, effective and liquid financial markets in Africa is central to the African Development Bank's strategy," said Pierre Guislain.
"The contribution to the Fund complements our existing initiatives aimed at mobilizing domestic savings and stimulating non-sovereign debt capital markets for private sector growth across Africa. We welcome this opportunity and are proud to partner with institutions from Germany, UK, US and other African Development Bank Member Countries to finance Africa's Sustainable Development Goals and the Bank's High 5priorities agenda."
"With the participation of OPIC and the African Development Bank, the ALCB Fund has achieved two milestones. Firstly, it takes total committed funds to US $180 million, maximizing the Fund's investment reach on the continent and its ability to mobilize domestic capital," said Ritter, a Principal Project Manager at KfW.
"Secondly, through the African Development Bank, the Fund is for the first time ever able to raise funding in a local currency from an African institution. Through the ALCB Fund, institutions from Germany, the UK and the US are joining forces with the AfDB to promote sustainable capital market development in and for Africa."
"The Board of the ALCB Fund and FSD Africa, on behalf of the UK government, greatly welcome the African Development Bank and OPIC as partners to the Fund," said Napier, the Director of FSD Africa based in Nairobi.
"These loans re-affirm both of these important organizations' strong commitment to the development of long term finance markets in Africa and allow the Fund to reach scale and maximize impact as an agent of change in African capital markets."
The OPIC loan will facilitate the Fund's participation in approximately 10 to 14 local currency bond issuances for institutions operating in financial inclusion, housing, agriculture, renewable energy and other developmental sectors throughout Africa.
OPIC is a self-sustaining US Government agency that helps American businesses invest in emerging markets. Established in 1971, OPIC provides businesses with the tools to manage the risks associated with foreign direct investment, fosters economic development in emerging market countries, and advances US foreign policy and national security priorities.
OPIC helps American businesses gain footholds in new markets, catalyzes new revenues and contributes to jobs and growth opportunities both at home and abroad. OPIC fulfills its mission by providing businesses with financing, political risk insurance, advocacy and by partnering with private equity investment fund managers.
About the African Development Bank Group
The African Development Bank Group is Africa's premier development finance institution. It comprises three distinct entities: the African Development Bank (AfDB), the African Development Fund (ADF) and the Nigeria Trust Fund (NTF). On the ground in 34 African countries with an external office in Japan, the African Development Bank contributes to the economic development and the social progress of its 54 regional member states.
KfW Development Bank has been supporting the German Federal Government to achieve its goals in development policy and international development cooperation for more than 50 years.
In this regard, KfW Development Bank is both an experienced bank and a development institution with financing expertise, an expert knowledge of development policy and many years of national and international experience.
On behalf of the German Federal Government, and primarily the Federal Ministry for Economic Cooperation and Development (BMZ), KfW Development Bank finance and support programmes and projects that mainly involve public sector players in developing countries and emerging economies – from their conception and execution to monitoring their success.