UN urged to create inquiry into war crimes in Ethiopia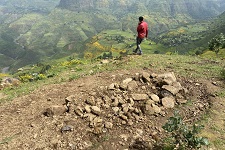 A new report by Exposing the 'summarily execution of civilians' in Ethiopia by the rebel group – Tigray Peoples Liberation Front (TPLF), Human Rights Watch (HRW) urged the UN rights body to create international inquiry into 'the war crimes'.

In its latest investigation released on Thursday, HRW has urged the United Nations Human Rights Commission to create international inquiry into war crimes committed by the Front designated as a terrorist group by the Ethiopian Parliament. "Tigrayan forces summarily executed dozens of civilians in two towns they controlled in Ethiopia's northern Amhara region between August 31 and September 9, 2021," said HRW.



"These killings highlight the urgent need for the United Nations Human Rights Council to establish an international investigative mechanism into abuses by all warring parties in the expanded Tigray conflict," HRW said.
The report stated that on August 31, Tigrayan forces entered the village of Chenna and engaged in sporadic and at times heavy fighting with Ethiopian federal forces and allied Amhara militias. Chenna residents told Human Rights Watch that over the next five days Tigrayan forces summarily executed 26 civilians in 15 separate incidents, before withdrawing on September 4.
In the town of Kobo on September 9, Tigrayan forces summarily executed a total of 23 people in four separate incidents, witnesses said. The killings were in apparent retaliation for attacks by farmers on advancing Tigrayan forces earlier that day.
"Tigrayan forces showed brutal disregard for human life and the laws of war by executing people in their custody," said Lama Fakih, crisis and conflict director at Human Rights Watch. "These killings and other atrocities by all sides to the conflict underscore the need for an independent international inquiry into alleged war crimes in Ethiopia's Tigray and Amhara regions."
In September and October, Human Rights Watch remotely interviewed 36 people, including witnesses to killings, victims' relatives and neighbors, religious figures, and doctors about fighting and abuses in and around Chenna Teklehaimanot village (Chenna) and the town of Kobo. Nineteen people described seeing Tigrayan fighters in Chenna and Kobo summarily execute a total of 49 people who they said were civilians, providing 44 names.
Human Rights Watch also obtained three lists of civilians who had allegedly been killed in Chenna between August 31 and September 4. Taken together, the lists contain 74 names, 30 of which witnesses and relatives of those killed also mentioned to Human Rights Watch.



In addition to summary executions, civilians may also have been killed during the fighting from crossfire or heavy weapons. Human Rights Watch was not able to determine how many were killed in this way.
A 70-year-old man said that two Tigrayan fighters killed his son, 23, and nephew, 24, in his home in Chenna's Agosh-Mado neighborhood on September 2: "At about midday two Tigrayan fighters came to my compound … they asked [for] our identity cards and accused us of being members of the local defense forces. Then they tied my son and nephew's hands behind their backs and took them out through the gate of my compound and shot them dead there. Then they turned to me, and I begged them not to kill me and they left."
Witnesses also said that Tigrayan forces put civilians at grave risk by holding them in residential compounds and shooting from those compounds at Ethiopian troops positioned on nearby hills, drawing return fire. Such actions may amount to "human shielding," a war crime.
Tigrayan forces seized control of Kobo in North Wollo district in mid-July. According to residents of Kobo and nearby villages, on the morning of September 9, Tigrayan forces from Kobo conducted operations in neighboring villages.
As these forces searched for weapons in at least two villages, farmers there attacked the Tigrayan forces and fighting ensued. When Tigrayan forces returned to Kobo shortly after midday, they attacked farmers working in the fields between the villages and Kobo.
Four residents described the summary execution of 23 people, including farmers returning to Kobo, in four incidents in the town.
A resident of Kobo's Segno Gebia neighborhood said that at about 2 p.m. on September 9 he watched from the window of his home as Tigrayan forces executed four men.
"At one point I saw about 50 Tigrayan fighters," he said. "About five of them went into a room where you can chew qat [a popular mild stimulant] and brought out four men who were my neighbors and just shot them. I don't know why they chose them."
On December 4, Human Rights Watch sent TPLF authorities a summary of findings requesting comment but received no response.
The UN Human Rights Council should urgently establish an independent international mechanism to investigate abuses in the Tigray conflict, which has since expanded into the neighboring Amhara and Afar regions.
The investigation should include alleged summary executions and other serious violations of the laws of war by Tigrayan forces, identify those responsible at all levels, and preserve evidence for future accountability, Human Rights Watch said.



The UN Security Council should add Ethiopia to its formal agenda and urgently take concrete measures against the warring parties to deter further abuses, including targeted sanctions and a global arms embargo.
"Tigrayan forces' apparent war crimes in Chenna and Kobo spotlight the urgent need for all warring parties in Ethiopia to prioritize the protection of civilians," Fakih said. "The UN Security Council needs to pressure the parties to make this happen through sanctions and an arms embargo."