Armed group kills 15 people in Ethiopia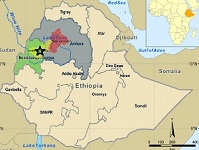 Unidentified armed group today killed at least 15 civilians in Benishangul Gumz Region of Ethiopia.

This is indicated by Ethiopian Human Rights Commission, which indicated that it has confirmed the killings and expressed its concern about the deterioration of peace in the area in its statement. The Commission indicated that the killing occurred this morning in Metekel area Dangur, around Bengez River in Benishangul Gumz Region.



"The Commission has confirmed the killings of atleast 15 people in Metekel area Dangur district, Manbuk town around Bengez River," the Commission said in its statement. The information gathered by the Commission from local government sources shows that until 2 pm this afternoon shows that 11 men and 4 women are killed by the armed group.
Sources have also told the Commission that the armed group has fought with the Ethiopian Army deployed in the area. The fight between the two parties was concluded around 1 pm, according to the Commissions' statement, which indicated that one additional civilian attacked by the armed group is in critical condition.
The Commission further estimated that the number of capsulitis might increase as the army is currency investigating the level of the damage caused by the attack of the group.
Over the past few weeks Benishangul Gumz Region has been frequently targeted by unidentified armed group, which often target specific ethnic group of the settlers living in the Region. A few days ago, Ethiopian Government officials including Deputy Prime Minister Demeke Mekonnen along with security officials have visited the area after similar attack led to the death of several people.
As a result, as of yesterday the areas frequently attacked by the armed group has become under the control of the command led by the federal government involving the Ethiopian Army.
The Head of the Ethiopian Human Rights Commission Daniel Bekele (PhD) has urged the Government of Ethiopia to immediately hunt the attackers who are making the lives of innocent civilians a nightmare and bring them to justice in order to restore peace in the areas.