Ethiopia to help small scale traders across Moyale border
BY ANDUALEM SISAY GESSESSE –
The Government of Ethiopia is set to introduce a protocol that will allow small scale traders to legally trade across the Moyale border with their neighbors in Kenya.

This is indicated by Abreham Gudeta, Process Coordinator of International Cooperation at Ethiopian Customs Authority, during the Moyale One Stop Border Post (OSBP) official visit of business journalists from Ethiopia and Kenya this week.
"The Government of Ethiopia is currently finalizing a protocol that will allow small scale traders to trade legally using the recently opened Moyale OSBP," Abreham said, responding to the complains raised by small scale traders living in border town of Moyale on the Ethiopian side.
One stop border post
The small-scale traders complained that because Ethiopia doesn't have a protocol that will allow them to legally trade with Kenya across the Moyale border, they have been considered as contraband traders or smugglers of goods. One trader from the Kenyan Moyale side indicated that bringing goods to Ethiopia through OSBP from Kenya has no problem, but trading goods to Kenya has been a challenge.
Mr. Abreham stated that Kenya as a member of the East African community has experience of implementing OSBP while trading with Uganda, Tanzania etc, while Ethiopia is new to OSBP practice.
He noted that to address the problem and easily facilitate the small-scale trade between the two nations, the Ministry of Trade and Industry of Ethiopia is currently finalizing a protocol by identifying the types of goods and volume that can bet traded by small scale traders across the Moyale OSBP.
Abreham expressed his hope that the protocol will be operational in a few months' time after discussion will be held with the community and relevant bodies.
It is indicated that though OSBP is new to Ethiopia, the country has protocols on the kind of items and their volume that can be traded by small scale traders across other borders linking the landlocked country with Somalia, Djibouti and Sudan.
The official trade statistics along the Moyale border has been increasing in terms of both imported items to Ethiopia and exported to Kenya.
Ethiopia, Kenya trade
Compared to the previous budget year of Ethiopia which was concluded July 7, 2020, the number of import documents from Kenya to Ethiopia processed at Moyale border has increased by 26 percent during the next budget year concluded July 7, 2021. Likewise, the number of export documents via Moyale border from Ethiopia to Kenya has also surged by 57 percent.
During the Ethiopian budget year concluded July 7, 2021, Ethiopia has exported worth $11.5 million goods with total volume of about 9.5 million kilograms via Moyale border. Meanwhile, trade statistics of International Trade Center shows that the total trade between Ethiopia and its neighbor Kenya has been declining over the past three years.
In 2020, Ethiopia's total export to Kenya has declined to $11.9 from $28.2 million in 2018. Similarly, the total export of Kenya to Ethiopia has gone down to $47.3 million in 2020 from $78.7 million in 2019.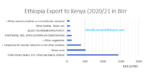 The major commodities of Ethiopia exported to Kenya via Moyale OSBP last year are beans, maize seed, cell phones, black tea, kahat / mirra (a stimulant plant), leather and leather products such as shoes, onions and tomatoes, among others.
During the visit the journalists have also witnessed bulk export of chicken eggs to be used for breeding by Ethio Chicken, and glass bottles, among others.
From the Kenyan side the export commodities being exported to Ethiopia via Moyale OSBP include manufactured goods such as, Kiwi shoe polish cream, agriculture chemicals, ballpoint pens, live animals, prepared cereals, prepared baking powders, printed papers and labels, and crown corks among others.
Moyale OSBP was inaugurated last December by Prime Minister Abiy Ahmed of Ethiopia and President Uhuru Kenyatta of Kenya.
Moyale town is divided in to two – Ethiopian Moyale and Kenyan Moyale with predominant settlers of Borena Oromos and Somali communities. Both communities are known as pastoralists moving across the borders linking Ethiopia, Kenya and Somalia, and have been engaged in the informal cross border trade for centuries.
It is indicated that now the Government of Ethiopia is working to make such traditional trading formal and easy for the traders by introducing a regulatory framework that govern their transaction via Moyale OSBP.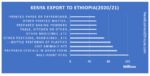 The OSBP facility built at Moyale between Ethiopia and Kenya is supported by the African Development Bank. The offices are equipped with $700,000 investment of TradeMark East Africa, an international non-governmental organization financed by the UK Aid and EU, among others. TradeMark East Africa has also provided trainings to the customs employees of both countries and is currently engaged in a series of awareness raising program about Moyale OSBP.
The customs officials of the two countries have indicated that implementing OSBP has several advantages, including faster movement of traffic, goods and people through OSBP. It also allows easier and efficient border crossing clearance process and procedures by saving in related logistical costs incurred when crossing the border.