Continent Free Trade Area should address gender in Africa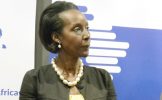 The signing of the African Continental Free Trade Agreement (AfCFTA) in March 2018 in Kigali set the stage for the integration of the African continent into a single market.

ECA Deputy Executive Secretary, Giovanie Biha, said; "Despite improved political representation, cultural barriers are still impeding gender equality and societal change on the continent."



She said there was need for experts to ensure the AfCFTA opened up new opportunities for women, and help them integrate more fully into productive, high-paid sectors of the economy.
"It is crucial to ensure that all its citizens, especially women, are involved in its implementation. What is needed is to strengthen women's participation in trade policies and their implementation across the continent," said Ms. Biha.
The BBC's Lerato Mbele moderated and set the stage for a great conversation by lauding Ethiopia, Rwanda and Seychelles for achieving gender equity in their cabinets and ensuring women held top decision-making posts across the board.
"The primary aim of our discussion tonight is about how Eastern Africa can harness the AfCFTA for greater gender equality. As we heard during the day, Kenya, Rwanda and Uganda have ratified the AfCFTA. It is crucial that the momentum behind the AfCFTA is sustained in a way to improve gender equality," she said.
Biha made the remark in Kigali, Rwanda on Tuesday night at a high-level roundtable dinner on 'Harnessing the AfCFTA for Gender equality' during the 22nd Meeting of the Intergovernmental Committee of Experts (ICE) for Eastern Africa.
To ensure that women are not left out of this historic process, the Economic Commission for Africa's Sub-regional Office for Eastern Africa (SRO-EA) teamed-up with TradeMark East Africa (TMEA).
Eastern Africa's performance on gender equality is mixed. In in the political sphere there is a lot of progress as shown by Ethiopia, Rwanda and Seychelles. But in the economic sphere progress is lagging.
TMEA Chief Executive Officer, Frank Matsaert, for his part, said; "Trade is everyone, and therefore trade policies should consider gender specific outcomes. Establishing clear links between trade policies and women's economic empowerment will result to better livelihoods for families and reduced poverty levels. We are working closely with East African governments to ensure women are key players of trade initiatives."
Amelia Kyambadde, Minister of Trade, Industry and Cooperatives of Uganda, said; "When it comes to women crossborder traders in the region, we need to simplify and make applicable the sophisticated global agreements and trade policies that foster regional integration."
She added that affordable credit, skills building and trade facilitation were among elements which can help bridge the gender gap in trade in East Africa.
The 2018 Buenos Aires Declaration on Trade and Women's Economic Empowerment, signed by many African countries, also came up for discussion. The declaration is a commitment to making trade policies more gender inclusive. Delegates shared insights on how ordinary African citizens can hold policymakers accountable for what they have signed up for.
They also discussed some of the constraints that may limit women from fully benefiting from the AfCFTA and what they thought can be done to ensure that agreement was gender responsive.
They agreed economies with better opportunities for women were more competitive and would benefit more from openness than economies that were less friendly to female involvement.
Eastern African countries were urged to work with the foresight to guarantee that trade policies were designed while taking into account gender-specific outcomes or such policies risked magnifying existing gender gaps.