World leaders gather in Vancouver for women conference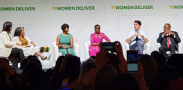 Including Ethiopia's President Sahlework Zewde and Kenyan President Uhuru Kenyatta, four nations heads of states
 

sat side-by-side young leaders and grassroots advocates, as delegates from more than 165 countries gather for the Women Deliver 2019 Conference in Vancouver Canada.
Opening the conference, "Women routinely face misogyny, hatred, and discrimination, and this is amplified online. It's easy to push abusive views online, and it's a daunting reality," said Canadian Prime Minister Justin Trudeau.
During the panel that followed the opening of the conference, "We are giving women opportunities to hold positions not previously held by them; and education for all in order to become participatory citizens," said president kenyatta. "I have instituted compulsory primary and secondary education for all the children of Kenya. It will soon be punishable by law for those that don't take their children to school," he said stressing the significance of taking girls to school.



The 5th edition of Women Deliver 2019 Conference, the world's largest conference on gender equality and the health, rights, and wellbeing of girls and women, kicked off on Monday with more than 8,000 world leaders and other influencers.
"Nurture and invest in future leaders," President Sahlework Zewde said, refering to an African proverb, "If you think you are too small to make a difference, you haven't spent the night with a mosquito". The participants include advocates, academics, activists, and journalists gathered in Vancouver, and more than 100,000 participating in a global dialogue around the world through satellite events and WDLive, the virtual conference.
1,400 youth delegates from 139 countries are expected to attend the Women Deliver 2019 Conference, where every plenary program and most concurrents feature a young person. The conference will focus on power, and how it can drive – or hinder – progress and change; and how societies must redefine the concept of 'power' and use it as a force for good.
The conference will examine power operating at three levels:
1. The Individual's Power – The Women Deliver 2019 Conference will examine girls' and women's individual power, self-esteem and agency. And how to strengthen that power.
2. Structural power – The Women Deliver 2019 Conference will explore and challenge systems, barriers, and opportunities for progress in power relations, including political, economic, and social structures.
3. The Power of Movements – The Women Deliver 2019 Conference will dive into the power of movements, and how we can shape critical consciousness and marshal collective action for change.
While the Women Deliver 2019 Conference and global dialogue will place a special emphasis on power, the conference will offer solutions to fill the gap on a vast array of issues crucial to gender equality: economic empowerment, women and the environment, nutrition, education, political participation, preventing gender-based violence, health, including sexual and reproductive health and rights, human rights, and much more.
"The Women Deliver 2019 Conference is much more than a conference, it is one important step on the march towards gender equality," said Katja Iversen, Women Deliver President/CEO at the opening press conference. "We all have power to contribute to a more gender equal world. If we use our individual and collective power – boldly, smartly and collaboratively — progress will follow."
"The Women Deliver conference will be a truly historic week. I look forward to joining many grassroots leaders and advocates who have dedicated their lives to defending and advancing women's rights. We know we can't take our foot off the pedal, not even for a moment. I'll be at the conference to show Canada's leadership on gender equality isn't going anywhere, and that we're not just speaking up, but stepping up too."
Key speakers of the conference include:
• Tarana Burke, founder of the 'me too' movement
• Winnie Byanyima, Executive Director, Oxfam International
• Farwiza Farhan, Leader, Forest, Nature, and Environment Aceh
• Henrietta H Fore, Executive Director, UNICEF
• Ken Frazier, Chairman of the Board & CEO, Merck + Co., Inc.
• Melinda Gates, Bill and Melinda Gates Foundation
• Waneek Horn-Miller, Indigenous Olympian
• Hina Jilani, Supreme Court of Pakistan
• Alan Jope, CEO, Unilever
• Natalia Kanem, Executive Director, UNFPA
• Angélique Kidjo, Grammy Award winning singer
• Her Royal Highness Crown Princess Mary of Denmark, Deliver for Good Influencer, Women Deliver
• Phumzile Mlambo-Ngcuko, Executive Director, UN Women
• Osvaldo Rudloff, Executive Director, OLACEFS (Latin American and Caribbean Organisation of Supreme Audit Institutions)
• Ailbhe Smyth, Co-Director, Together for Yes
• Theo Sowa, CEO, African Women's Development Fund
• Maysoon Zayid, Actress, Comedian, Writer and Disability Advocate
The conference has sparked a global dialogue around the world through satellite events and virtual participation. To date, more than 186 events on six continents have registered as satellite events, estimated to reach more than 82,000 people.