U.S. Special Envoy set to visit Ethiopia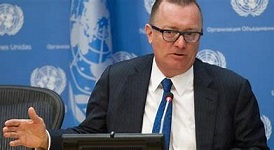 The United States Special Envoy for the Horn of Africa Jeffrey Feltman is set to visit Ethiopia next week.

In addition, Jeffrey Feltman will also travel to Djibouti and the United Arab Emirates between August 15 to August 24, according to the statement from the State Department. Special Envoy Feltman will meet with senior officials in the three countries to discuss opportunities for the United States to promote peace and support the stability and prosperity of the Horn of Africa, according to the statement.
Jeffrey Feltman was appointed the U.S. Special Envoy for the Horn of Africa on April 23, 2021. He is charged with leading a U.S. diplomatic effort to address the interlinked political, security and humanitarian crises in the Horn of Africa and has full authority to coordinate U.S. policy across the region.
The century-old bilateral relation between the United States and Ethiopia, which has been the top aid recipient of the U.S. during the close to three decades era of Tigray Peoples' Liberation Front (TPLF) ruling of the east African country, has been deteriorating over the past months after the Ethiopian Government launched a military operation in response to TPLF militias attack on its military base.
The ongoing military confrontation between Ethiopian National Defense Force and TPLF has begun when the latter attacked the northern military command based in Tigray region last November as admitted by its official on Tigray TV.
Since then, the United States Government,civil society organizations, and some Western media outlets allegedly are supporting TPLF behind the secene, have been pressuring the Ethiopian Government in what Prime Minister Abiy Ahmed's administraion calls 'interference into its internal affairs'.
As a result, the United States Government has announced travel sanctions on Ethiopian officials a few months ago.
During his visit second visit to the region Jeffrey Feltman is expected to reflect on his government's interest in the Horn of Africa, and the military operations of Ethiopian Government against the TPLF, which was designated as terrorist group by the federal government.