U.S. Congressman Expresses Concern About Chinese Actions in Africa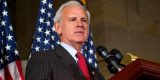 United States Congressman Bradley Byrne (R-AL), a member of the House Armed Services Committee, expressed his concerns about recent actions by China in Africa, specifically actions in the Republic of Djibouti.

Djibouti recently illegally seized control of the Doraleh port terminal by presidential decree, and some reports indicate Djibouti plans to gift the facility to the Chinese government. Congressman Byrne fears this aggressive expansion into Africa could hinder U.S. military and intelligence efforts to operate in the strategic choke point in the Horn of Africa.



Djibouti is home to the only permanent U.S. base on the entire African continent and hosts roughly 4,000 military and intelligence personnel.
Byrne on March 6, sent a letter to Secretary of Defense James Mattis outlining his concerns, and he also questioned General Thomas Waldhauser, Commander of U.S. Africa Command, about China's actions in Africa and how it could impact the United States.
"I am deeply troubled about recent Chinese actions in Africa and efforts to expand their influence in the region," Congressman Byrne said in his comment on March 6, 2018.
"Reports that Djibouti plans to gift a major port to the Chinese government could negatively impact the ability of U.S. military and intelligence officials to conduct critical counterterrorism operations. I encourage our military leaders to monitor the issue closely to ensure that any actions will not negatively impact our servicemembers or our important economic, military, or diplomatic efforts throughout Africa."