TPLF lost Hawzen, Abreha Wetsbeha, Wukro, Hewane towns
BREAKING NEWS – The Ethiopian Army has liberated several towns in the three fronts on its way to Mekele, the capital of Tigray Region, where the Tigray People Liberation Front (TPLF) leaders who ordered attack on the northern command of Ethiopian army a few weeks ago are hiding.

At Adwa front the army has liberated Hawzen, Abreha Weatsebeha, Wukro towns. The army is currently heading to the Messobe – Last Mountain before Mekele City. After the Ethiopian Army controls the Messobe Mountain, it will be easy to enter Mekele City, according Lieutenant General Hassen Ibrahim, Officer at Ethiopian National Defense Force.



He also stated that on the other direction Adigrat Front, the Ethiopian Army which liberated Daga Hamus town before the 72 hours ultimatum, has set free Sinkata and Al Negash towns over the last 24 hours. On the other Raya front, the Ethiopian Army has liberated AdiKeye, AdiMesano towns and Hewane towns. Currently on the Raya Front army has completed the mountain part and took control of the strategic area to head to Mekele.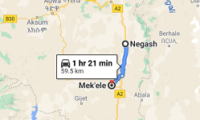 "This shows the battle is getting closure to its last chapter," said General Hassen briefing media an hour ago. He noted that a new final battle plan is designed on how to enter Mekele and capture the culprits in the coming days.