Secretary Tillerson, Russia and UAE foreign ministers set to visit Ethiopia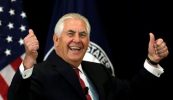 United Sates Secretary Rex Tillerson, Russian Foreign Minister Sergei Lavrov and United Arab Emirates Foreign minister and International Cooperation, Sheikh Abdullah bin Zayed are set to visit Ethiopia this week.
Secretary Rex Tillerson will travel to N'Djamena, Chad; Djibouti, Djibouti; Addis Ababa, Ethiopia; Nairobi, Kenya; and Abuja, Nigeria, March 6-13, 2018.
Lavrov's visit is aimed at bolstering the 120 old cordial bilateral relationships and taking it to the next level. The effective implementation of the agreements signed between Ethiopia and Russia will also be reviewed during the visit, according to the spokesperson of Ethiopian Ministry of Foreign Affairs, Meles Alem.
Secretary Tillerson will meet with leadership in each country, as well as the leadership of the African Union Commission based in Addis Ababa, to further our partnerships with the governments and people of Africa, according to the statement of the U.S. State Department.
"In particular, he plans to discuss ways we can work with our partners to counter terrorism, advance peace and security, promote good governance, and spur mutually beneficial trade and investment. During his trip, he will also meet with U.S. Embassy personnel and participate in events related to U.S. government-supported activities," it said.
Mentioning that UAE is one of the Gulf countries with whom Ethiopia has a strong cooperation, the Spokesperson pointed out "this will be a platform for both countries to further enhance their existing relations."