Rebranded party elects Ethiopia's PM Abiy again as chairman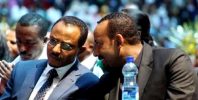 The Oromo Peoples' Democratic Organization (OPDO), which rebranded itself this week as Oromo Democratic Party (ODP) this week, has reelected Prime Minister Abiy Ahmed to continue as its chairman.

ODP is one of the four member parties of the ruling coalition, the Ethiopian Peoples' Revolutionary Democratic Front (EPRDF). During its three days general assembly concluded on Friday, ODP has also sacked around 80% of its congress and central committee members replacing them with 'young and educated' members. The newly elected leaders are between the ages of 30 – 50.



The part stated that the previous leaders are 'retired with dignity' from the leadership and pass to the new generation.
ODP has decided to bring the youth, who sacrificed with their blood and contributed with their knowledge to bring the current reform to be in the leadership position, according to Prime Minister Abiy who spoke at the closing of the meeting yesterday.
The party has also re-elected Lemma Megersa, the president of Oromia Regional State and the mastermind of the current reform, to continue as deputy chairman of the party. ODP has also changed its logo, anthem and adjusted its governing rules and regulations.
The remaining three member parties, Tigray People Liberation Front (TPLF), Amhara National Democratic Movement (ANDM) and the Southern Ethiopian Peoples' Democratic Movement (SEPDM) are also scheduled to hold their general assemblies in the coming week.
ANDM has also been indicating the party's plan to rebrand itself and make adjustments like ODP.
Political analysts are suggesting that the two parties are preparing themselves for possible collaboration in the upcoming May 2020 national election and dominate the decisions of the upcoming general assembly of the ruling coalition.
After a week, the ruling coalition is set to hold the long-awaited and couple of times postponed general assembly. The general assembly, which has a total of 1,000 voting members 250 from each party, is expected to elect its chairman and deputy, among others. The last EPRDF general assembly took place in August 2016.