Ethiopian forces liberate Dessie, Kombolcha, Bati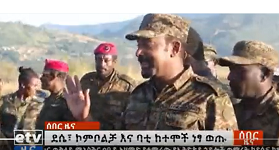 Ethiopian military forces today announced liberating three major towns in Amhara regions, namely Dessie, Kombolcha, and Bati from the Tigray Peoples Liberation Front (TPLF) fighters.

Prime Minister Abiy Ahmed who is leading the Ethiopian army at the battle fields, said "the victory is significant". "…We are proud of our national Defense Force; We are proud of our people…I would like to say congratulations to all the people of Ethiopia," said Abiy, who is also commander in chief of Ethiopian Army.



"We paid sacrifices, not to steal; not to rape; or not to kill, but to rescue Ethiopia," Abiy Ahmed said speaking to the red helmet soldiers after announcing the victory. Abiy indicated that the Army will continue liberating the remaining towns from the control of TPLF rebels who are now on the run to Tigray region.
Since Abiy Ahmed began leading the army at the battle fields about two weeks ago, the Ethiopian forces have liberated fully the Afar region, and many towns in Amhara region which were under control of the TPLF.
TPLF, which is designated as a terrorist group by the Ethiopian Parliament, has been expanding its invasion after the Ethiopian Government announced unilateral ceasefire and left Tigray region last June.
The war between the TPLF and Ethiopian national defense force began when the former attacked the military base of the Government to control heavy artilleries based in Tigray region on November 3, 2020.
TPLF, which has been on power in Ethiopia since May 1991, lost its dominance when the ruling coalition elected Abiy Ahmed to become Prime Minister following the resignation of Hailemariam Desalegn because of popular nationwide political protests.



The attack of TPLF on the Ethiopian military base in the northern part of the country was aimed to return back to power through arm strong once again, as latter admitted by TPLF officials on Tigray TV.
— Myriam S 🇪🇹 (@Myriam_A_Said) December 6, 2021