Ethiopia, Turkey sign military cooperation agreement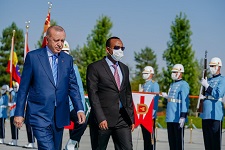 The officials of Ethiopia and Turkey on Wednesday signed a military cooperation agreement at the presence of the leaders of the two countries.

The deal is inked in Turkey during the visit of Prime Minister Abiy Ahmed of Ethiopia and at the presence of President Recep Tayyip Erdoğan of Turkey. "The agreements we have signed is are a strengthening of our relations. I appreciate Turkey's support in Ethiopia's continued development and stability," said Prime Minister Abiy.
In addition to 'military financial agreement', the two countries have also inked water and science related deal, according to the state media – Ethiopian Broadcasting Corporation.
It is indicated that Turkey is also interested to reopen its consulate in the Eastern part of Ethiopia Harar town. It was around 1911 that Turkey opened its Harar town. Twenty year later Ethiopia has also opened its embassy in Turkey.
Currently, Turkish foreign direct investment in Ethiopia has reached about $2 billion creating some 20,000 jobs for Ethiopians. Last year the trade between the two countries was $292 million.
Completing the official visit the Ethiopian delegation led by Prime Minister Abiy Ahmed has returned to Addis Ababa today. Before traveling to Turkey, the delegation of Prime Minister Abiy has also visited the neighboring Eritrea and met with President Isaias Afwerki of Eritrea.