Ethiopia says "no miracle" stops its right to use Nile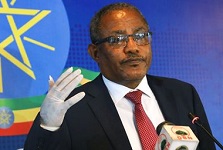 BY ANDUALEM SISAY GESSESSE – Ethiopia will not give away its right by any miracle to use the water of the Abbay River (Blue Nile) that originates from its territory, said Foreign Minister of Ethiopia, Gedu Andargachew.

"Let them take (the issue) to the United Nations, take it wherever they want. Let them say whatever they want. Let them say bad things about Ethiopia. And let them threaten us as they sometimes do. But by any miracle, we will not let go our right to use the Abbay River water, which originates within our territory, and to build the dam within our own territory. They (Egyptian politicians) have to know this. They have to also inform the Egyptian people," he said today commenting on the latest statement of the Foreign Affairs of Egypt which indicated taking the issue to the UN to stop Ethiopia from filling water its under construction grand dam this July.



"They have worked hard to make sure that we don't have the capacity to build a hydro-dam. After we get the capacity, they have worked hard to make sure that we don't start the construction. After we started the construction of the dam, they tried every thing to make sure that we don't continue the construction," he said briefing reporters.
"Resisting all these, we are negotiating. Even now during the negotiations, they continue putting one of their legs in New York and the other leg in the negotiation…Every day before negotiation starts, they issue statement claiming that the negotiation has failed. They sue Ethiopia because they want the negotiations to fail," he said, asking "Does that mean Egyptian leaders are happy because Ethiopians are living in darkness. Are they enjoying our poverty?".
He stated that Ethiopia has no agreement with Egypt except the 2015 declaration of Principles (DoP). If Egypt refused to honor this agreement and are not willing to negotiate for a win-win solution, Ethiopia has no reason or issue to sit and talk with Egypt, according to the Minister of Foreign Affairs of Ethiopia, Gedu Andargachew.
He indicating that Ethiopia is trying its best to negotiate with Egypt, which doesn't contribute water to the Nile but wants to take all of it. "It is very challenging to negotiate with such counterpart. It is impossible to reach any agreement with such a force who says let me take all of it," he said.
"What we see from Egypt side is excessive stinginess," he said. He stated that even though the majority of the water is originating from Ethiopia, Ethiopia is still "saying is let us all utilize the water together".
Minister Gedu's comment came on the fifth day of the ongoing negotiations among the water ministers of the three major Nile riparian countries, Ethiopia, Sudan and Egypt on the water filling program of Ethiopia into its mega dam on the Nile – Great Ethiopian Renaissance Dam (GERD).
Nine years ago Ethiopia begins the construction of GERD, which will have 74 billion cubic water reservoir behind it. Egypt has been expressing its concern that its "historical right" use of the Nile water will decline if Ethiopia start to use.
On the contrary, Ethiopia, which generates 86 percent of the water to the Nile River, has been arguing that it has "natural right" to use the water to its development without causing severe hard to the downstream countries – Sudan and Egypt. For centuries, Egypt and Sudan have been using the Nile River for irrigation, hydro power and tourism, among others. Currently over 98 percent of Egyptians have access to energy, while in Ethiopia close to half of the population are in darkness.



Prime Minister Abiy Ahmed, who commented to the Members of Parliament last week stated that 50 million Ethiopians are using fossil fuel cutting trees to meet their energy needs, which ultimately reduces the water flowing into the Nile River as there will be no rain in desert.He urged Egyptians and Sudanese to join his 20 billion trees planting initiative in four years to sustain the flow of the water into the Nile River.