Prime Minister Abiy Ahmed of Ethiopia arrives Khartoum, Sudan this morning to mediate the military council and the opposition leaders.

"Prime Minister Abiy Ahmed, together with his delegation, arrived in Khartoum, Sudan this morning for talks with the Chief of the Sudanese Transitional Military Council, Lt. Gen Abdel Fattah al-Burhan," the Office of the PM twitted.



"During his Sudan visit, Prime Minister Abiy Ahmed also held discussions with members of the Forces for Freedom and Change. He expressed Ethiopia's commitment to fostering peace in the region and underlined that a prerequisite for restoring peace in Sudan is unity."
Following the overthrow of President Al Bashir early April by the military, Sudan has been under the leadership of Sudan Military Council, which promised to establish civilian led transition government that leads national election within a year. Meanwhile, last Monday tens of protester have been shot dead in the capital Khartoum as they tried to storm a military camp.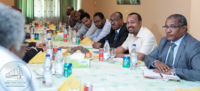 Following the Monday incident, the African Union Commission has issued a statement on Sudan suspending its membership from the AU and all its activities until the Military council allows the establishment of a joint civilian led transition government. The number of civilians killed on Monday is estimated between 61 to 108 according to different reports coming from Khartoum.