Ethiopia issues arrest warrant for 76 army officers
The Government of Ethiopia today issued arrest warrant for 76 senior army officers who allegedly engaged in treason.

The army officers of which the majority hold colonel ranking, are accused of violating the constitutional order of Ethiopia and using force to destabilize the country. Of the 76 nine are Army Generals of which two are Major Generals. While some of the officers are retired from the Army, the majority are currently on duty, according to the report of the Federal Police Commission of Ethiopia. The officers are conspired with the Tigray Peoples Liberation Front (TPLF), which confirmed attacking the federal government military base northern command in Tigray Region on November 4, 2020.



Following the military attack by TPLF militias, many Ethiopian soldiers are reportedly killed while sleeping. Many are also sent necked to Eritrea, according to the reports from Ethiopian Government officials, which described the incident as the worst treason.
The government said that the attack on the northern command of Ethiopian Army was to rob the heavy artilleries deployed in Tigray during the Ethiopia-Eritrea war. In response to the attack of TPLF, Ethiopian army has been engaged in fight since November 4, 2020 and freed several towns, which the TPLF has been administering in Tigray Region for close to three decades.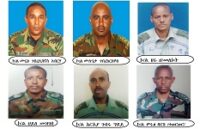 Before the TPLF attacked the northern command of the Ethiopian Army, most of the TPLF leaders who were charged for crimes against humanity, mega corruption, were hiding in Tigray Region refusing federal government order to appear to court and defend their crimes.
The TPLF, which has been dominating Ethiopian politics for some 27 years has lost its power in April 2018 when Abiy Ahmed is elected by the ruling coalition, which is considered by the old guards of TPLF as sudden death. Since then, the TPLF has been acting as an opposition often claiming that Ethiopia will be ruined unless the leadership of the country remains under its dominance.



Among the 76 wanted army officers are – Major General Mashoh Beyene, Major General Halefom Ejigu, General Ftiwi Tsehaye Gebregziyabher, General Gidey Hailu Gebregziyabher, General Woldegiorgis. General Gush Gebre, General Kebede Fikadu, General Gebregiorgis, General Hintsa Weldegiorgis, Coloneil Tewolde Gebretinsay, and Coloneil Niguse Gebru, among others.