Ethiopia introduces republican guard
The Government of Ethiopia on Sunday introduced a new republican guard, which will be in charge of protecting government officials and their families.

The members of the guard have taken six month training both in the country and abroad. It was about six months ago that the Council of Ministers has approved a directive that allowed the establishment of a new Republican Guard.



On Sunday the Republican guards have exhibited their skills to in the presence of Prime Minister Abiy Ahmed who is also Commander in chief of Ethiopian military.
"The purpose of the show is to inform the people of Ethiopia that their leaders are well protected and they do not need to worry about their safety.
By this show we are also informing those who, might be thinking to launch to attack this country's leaders, to refrain from such attempts," said Brigadier General Birhanu Bekele, who is in charge of the Republican Guard.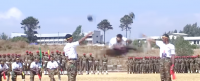 It is recalled that last June the reformist Prime Minister Abiy Ahmed of Ethiopia has escaped an assassination in Addis Ababa during a rally organized supporting his reform.