Ethiopia establishes national committee to rehabilitate Tigray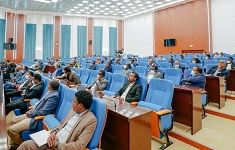 The Government of Ethiopia today announced establishing a national committee of 12 members who can facilitate rehabilitation of people displaced in Tigray Region following the ongoing rule of law restoration operation.

The Committee members were elected today at a meting with Prime Minister Abiy Ahmed where elders, scholars and business people from Tigray and Amhara region have gathered.



"Our meeting today with the business community, academic and religious leaders from the Tigray and Amhara regions is aimed at bridging divides for a common goal of rehabilitating our people displaced in the Tigray region before the onset of the rainy season," Prime Minister Abiy twitted.
During the meeting the Prime Minister also urged the committee members to prioritize rehabilitation of the people in Tigray and ignore for the moment the ethnic and political difference between the Amhara and Tigray Region.