Ethiopia declares state of emergency in Tigray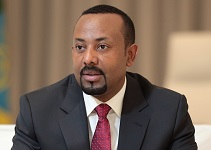 Hours after a military confrontation between the federal government of Ethiopia and the Tigray Peoples Liberation Front (TPLF), the Council of Minister of Ethiopia declares a state of emergency in Tigray Region.

The decision of the Council of Ministers indicated that the Command force in charge of executing the state of emergency in the region will be led by the Commander in chief of Ethiopian Army – Prime Minister of Ethiopia. The Prime Minister will be in charge of all the operations of the Command force led by the Army Chief of Staff. The state of emergency will be in place for the coming six months and will be applied in all parts of Tigray region, according to the statement from the Council of Ministers.



Located in the northern part of Ethiopia Tigray region has been under the leadership of TPLF since the former rebel group took power in Ethiopia May 1991 overthrowing the Marxist Dreg regime. After taking power the TPLF, which claims to represent some 5% of the total population of Ethiopia, has on power in Ethiopia until April 2018 by dominating the four party members ruling coalition – Ethiopian Peoples' Revolutionary Democratic Front (EPRDF).
Meanwhile the TPLF withdraw from the coalition after EPRDF has voted to a new leaders Abiy Ahmed from the Oromo party, which is one of the four members of the coalition parties. Since then the federal government has been at loggerheads with the TPLF, whose leaders some of whom are in wanted list by the federal government for crimes against humanity and grand corruption, have locked themselves in Tigray Region of Ethiopia.
Today's military confrontation came between the two sides came following the continuous provocation for war by TPLF, which includes refusing recently an army chief appointment by federal government for the military force based in Tigray Region. The Federal government in its statement this morning stated that the Army is ordered to take action against the TPLF, which has attacked a military base in Tigray and attempted to robe artilleries.
In a related development, Temesgen Tiruneh, President of the Amhara Regional State, which borders the Tigray Region, indicated that the special force of Tigray, established by the TPLF, is well come to surrender the enter into Amhara region peacefully. He indicated in his social media page that the members of the special force of Tigray are is forced to be engaged in fight with the federal government by the TPLF. Following the military confrontation unconfirmed reports show that telecommunications service in Tigray region is currently interrupted.