Ethiopia arrests former Metal and Engineering Corporation head
The former direct of the multibillion dollar state enterprise, Metal and Engineering Corporation (METEC), allegedly engaged in grand corruption is arrested while trying to escape to Sudan, state affiliate media reported.
Major General Kinfe Dagnew was captured today, according to Fana, which showed footage of General Kinfe surrounded by armed forces. Currently he is being taken to Addis Ababa from Humera Town where he was captured.



Yesterday the attorney general has briefed journalists about the arrest of army officials who were running METEC. Those arrested include generals, colonels and their business affiliates for allegedly engaging in grand corruption and moving stolen money out of the country, among others.
General Kinfe resigned from his position after the reformist Prime Minister Abiy took power seven months ago. METEC has been running over a dozen companies engaged in manufacturing and repairing military equipment's, choppers, and tanks as well as assembling vehicles both for military and civilian use.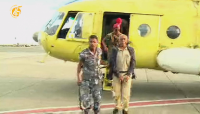 The state enterprise has also been engaged in major contracts of supplying equipment to Ethiopia's Great Renaissance Dam construction and civil engineering works. In seven years' time 2010/11- 2016/17, METEC officials have made purchase of worth two million dollars from China and Malaysia without proper bidding process and with 400% exaggerated prices.
In relation to local purchases, METEC officials have also allegedly done multi billion dollars of transaction with companies run by their relatives and people who have business relations with them, according to the attorney general.