Eritrean President, Ethiopian PM visit South Sudan
Prime Minister Abiy Ahmed of Ethiopia and President Isaias Afwerki of Eritrea arrive at Juba Airport, South Sudan this morning to consult on economic and political affairs.

During their stay, the two leaders are expected to consult on regional economic and political affairs with President of South Sudan Salva Kirr, according to the state broadcaster.



"During their stay in Juba, they will hold discussions with President Salva Kiir and other higher government officials on regional peace, economic ties and infrastructure development," the Office of Ethiopian Prime Minister twitted.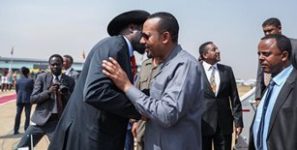 "In addition they will also be addressing issues of developing joint capacities and working together in an integrated manner. It is known that Ethiopia has been making a concerted effort to bring peace and reconcile rivalries in South Sudan," it said.
It is recalled that yesterday Prime Minister Abiy and Kenyan President Uhuru Kenyatta of Kenya have traveled to Asmara, Eritrea, from Addis Ababa and discussed regional political and economic affairs.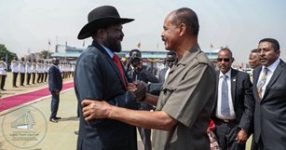 "President Isaias Afwerki and Ethiopia's Prime Minister Abiy Ahmed have departed today to Juba, the Republic of South Sudan, for a one-day working visit and tripartite Summit with President Salva Kiir on regional issues of common interest," Innformation Minister of Eritrea Yemane G.Meskel twitted a few hours ago.