Eritrea accuses Al Jazeera for bias reporting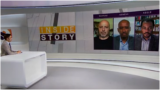 An Eritrean official accuses of Al Jazeera TV, which is owned by the Government of Qatar for being biased in reporting about Eritrea after the peace deal with the neighboring Ethiopia.

"Al Jazeera TV (English Service) has gone berserk to ramp up its vitriol against Eritrea in past 3 days," twitted Yemane G. Meskel, Information Minister of Eritrea.



"This amplifies two facts: i) its ill-will towards & annoyance at the Eritrea-Ethiopia peace process; ii) it continues to duly advance the subversive agenda of its key financier," he posted.
The report is based on the escape of Eritrean footballers in Uganda about a week ago. Al Jazeera reported about Eritrea when Eritrean President Isaias Afwerki is visiting Ethiopia meeting Prime Minister Dr. Abiy Ahmed and other officials.
In its inside Story report yesterday (on Friday) Al Jazeera highlighted that "thousands of Eritreans leave every year, with football players also 'defecting' while playing abroad."
In its report Al Jazeera stated that "…Opposition parties are banned and the judiciary is not independent, but the president has dismissed allegations made by rights groups that the country under his government is one of the world's most tightly controlled. Thousands of Eritreans leave every year to escape rights abuses, as well as enforced and lengthy military service."
Al Jazeera's report also mentioned that human right abuses are spread across Eritrea mentioning that journalists often disappear.
One of the panelists at of the Inside Story on Eritrea, Awol Allo, Senior lecturer in Law in Keele University in UK, indicated that the series and massive human rights abuses in Eritrea are documented by many human rights organizations, including UN agencies.
Another panelist Daniel Mekonnen, Former Judge in Eritrea and Director of Eritrean Law Society (professional Association of Eritrean Lawyers in Exile) stated that nothing has changed in Eritrea since the peace deal was signed with the neighboring Ethiopia 18 months ago.
"…Nothing has changed in spite of the high expectation of the general public…That is why we see footballers escaping in large numbers," he said.
[embedyt] https://www.youtube.com/watch?v=iUnFBiL4MEo[/embedyt]