Djibouti host Somalia, Somaliland leaders consultation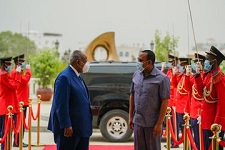 By Sisay Woubeshet – Prime Minister Abiy Ahmed of Ethiopia and President of Djibouti Ismail Guelleh on Sunday attended a consultation meeting that aimed to narrow the difference between Somalia and Somaliland.

"I am honoured to attend at the Consultation Summit on the Relations between Somaliland & Somalia, upon the initiative of Ismail Guelleh, the President of Djibouti. The presence of the regional leaders in this meeting shows their commitment to lead a result oriented dialogue," twitted Muse Bihi Abdi, the 5th President of Somaliland, which was separated from the main Somalia in 1991.



During the consultation summit on relations between Somalia and Somaliland, Prime Minister Abiy Ahmed reiterated the value of peace and reconciliation in the Horn region as the foundation for regional integration, according to the statement of the Foreign Affairs of Ethiopia.
"The consultation summit follows a meeting between the two leaders facilitated by Prime Minister Abiy Ahmed in February 2020 in Addis Ababa. In today's summit, the Prime Minister recounted the abundant resources in the region that can be utilized effectively for regional development, if cooperation and peace are made to be leading forces. He emphasized, 'together we can pool our resources to break the vicious cycle of poverty and despair'," it said.
"I am pleased that the consultation summit on relations between Somalia and Somaliland, hosted by Ismail with the presence of Mohamed Farmaajo and Muse Bihi Abdi took place today. This is a critical demonstration of open dialogue and reconciliation for national and regional development," Prime Minister Abiy twitted.
Though the international community has not yet accepted Somaliland as an independent country, landlocked Ethiopia has been close with Somalailand using its Berbera Port and having flights to Hargessa.
A few years ago, Ethiopia has also acquired 19 percent of Berbara Port, which is currently under expansion with investment of $442 million. DP World holds 51 percent share of Port of Berbera, while the Government of Somaliland holds the rest 30 percent.