Why Ethiopia, Djibouti enjoy special bonds
By Andualem Sisay Gessesse – 
Following the growing economic and social ties, the governments of Ethiopia and Djibouti have been collaborating in a multiple fronts from linking via railway and road networks to water and gas pipelines and several frontiers.

A pipeline installation that will enable Ethiopia to transport its natural gas from Ogaden area of Somali Region to Djibouti Port for refining it on a ship and export has been also underway.
The rail way that connected the two countries have served for over a century just before abandoned recently and replaced with an electric one. Thanks to Emperor Menelik II of Ethiopia, the construction of the 784 kilometers old railway took around 23 years (1894–1917) connecting the Ethiopian capital of Addis Ababa to the French colonial port city of Djibouti.
Recently Ethiopian government has decided to provide a free education for 1,000 Djibouti college students. The decision came following the strong relationship emerged mainly after Ethiopia began relying on East Africa's smallest nation for almost all its import and export trading of goods.
"The hardware (infrastructure) integration between Ethiopia and Djibouti is becoming exemplary for many Africans. As our relation is getting stronger we are now moving towards deepening the people to people relationship. That is why our government has decided to provide free college education to 1,000 Djibouti students. So far 40 to 50 students have already started their study in Ethiopian colleges," said Shamebo Filamo Adebo, Ethiopia's Ambassador to Djibouti.
Special ties
Both the Afar tribe and one of the clans of Somalis clan (Issa) of Djibouti are found in Ethiopia considering both nations as their country and describing themselves as 'one people with two nations'.
As a result of this special ties and strategic significance of Djibouti, Ethiopia whose population has now reached 105 million has opened its doors for all Djibouti nationals (close to one million) to enter the country without visa.
In addition Ethiopian government has also given privileges all Djibouti nationals investing in Ethiopia to be treated as Ethiopians, which includes engaging in most of the sectors which are not allowed for foreigners such as transportation.
To help the Red Sea country resolve its drinking water problem, Ethiopian government has also allowed Djibouti to install a pipeline and use the ground water from Adigala of Somali Region of Ethiopia
free of charge, according to Ambassador Shamebo who noted that the project will be finalized in the coming months.
He also noted that following the completion of the new 756 kilometers electric railway that links them, the two countries have also established a common Immigration spot at a 3 kilometers distance within Ethiopian territory.
In order to jointly fight terrorism and extremist elements the two sides have also signed an extradition agreement, which allows one country to arres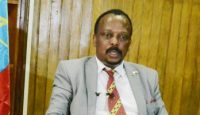 t and handover a suspect / criminal to the other country. The two countries have also been working to jointly promote their tourist attractions to international tourists as one destination.
This will enable tourists coming to Ethiopia to visit its historical, cultural site and archeological sites, to also experience the sea and beaches of Djibouti in a single tour package, according to Ilyas Moussa Dewaleh, Minister of Economy and Finance of Djibouti.
Growing trade
Up until the 1998 war with Eritrea broke, Ethiopia was using the Assab Port.  After the two old friends became enemies, Djibouti happens to be the closet port for Ethiopia to get access to the sea.
The export earnings of Ethiopia from Djibouti has increased to $120 million last year. The money is generated from products such as electricity, chat (the stimulant leaf highly consumed by many Djibouti nationals) and agricultural products including, coffee, honey, tea, wine and beer.
"Last year for the first time we have also facilitated export of military boots from Ethiopia to Djibouti," Ambassador Shamebo said. "As we have made general trade agreement last year, Ethiopia will gradually be able to substitute the products Djibouti is importing from far such as Australian, French, Egypt and the like," he said.
Mainly attributed to the port service fee from the growing import bill of Ethiopia that reached $17 billion and around 3% billion export last year, Djibouti's economy has been growing by around 6% for the past five years.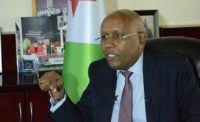 Mainly to meet this growing demand of Ethiopia, recently the country has built three special purpose ports including the Duraleh Multipurpose Port built with investment of $580 million and inaugurated six month ago.
The International Monetary Fund (IMF) forecasted that this year it will grow by 7% though it is now struggling with 39% unemployment rate.
Its strategic location along the Gulf of Eden and Red Sea has also made Djibouti to attract several military bases of the world powers, including France, the United States, Japan, China, Saudi Arabia and
Germany, among others.
"Djibouti is so important for Ethiopia and the global powers that are already here. They are not here because they loved us. They come because they know the importance of Djibouti from the global geostrategic point of view. So we prefer to share whatever minimum we have," Minister Ilyas said.