Djibouti exploiting its advantages
ANDUALEM SISAY GESSESSE – Djibouti has registered remarkable economic growth over the past decade, mainly after its ports began handling Ethiopia's import and export trade.

In addition to port service, Djibouti has been making policy changes to make the tiny East African country one of the best tourist and investment draws in the region. The introduction of international free zones, modeled after that of Dubai, which allows global citizens to easily setup companies and pay no profit tax, is one of the major steps the country has taken.



Fishing is one of the many sectors the country offers to foreign investors, but currently only 5% of a potential of 40,000 – 50,000 tons per year is being caught.
Tourism and hospitality are another areas of investment one can consider in Djibouti, due to the presence of military basis of major global powers such as the United States, France, Japan, China and others. Investment in upmarket hotel and resort could be hugely lucrative.
Djibouti is ranked 99 among 190 economies in the ease of doing business, according to the latest World Bank annual ratings. The rank of Djibouti improved to 99 in 2018 from 154 in 2017.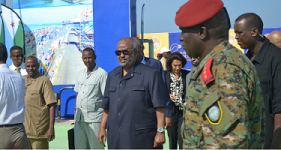 "More and more visitors are coming to Djibouti and hotels are full most of the time. Because of that, some people are even staying in private houses," says Fouad Abdillahi Barreh, General Manager of Global Chamber Djibouti Office, a company that advises foreign investors setting up businesses in Djibouti.
Housing and real estate is also another area foreign investors may consider in Djibouti.
Following are the basic steps a foreign investor will have to take to setup a business:
 Use consulting firms like Global Chamber Djibouti Office or directly go to the Djibouti Free Zones office
Fill out the forms obtainable from the Free Zones office
Alternatively, one may see a lawyer who has the mandate to handle the process on behalf of investors and get her / his company registered.
Bringing a copy of the owner's passport copy of the owner / investors is mandatory. Similarly passport copies of the manager and local staff are also required during the registration. One is obliged to pay license processing fee of around $500 and about $3,000 for the license itself.
If for instance one wants to setup an import-export company in Djibouti, it is mandatory to show a capital of $6,000 deposited in a bank. "After three days you can take that money and use it," Fouad says.
If, the business is in the international free zones, it is not mandatory for the investor to rent office space because free zone provides premises for about $10,000 a year.
One of the benefits of having a company registered in the Djibouti Free Zone is that it will not be charged profit taxes. But expected to pay license renewal fees and the office rent of course. "However you can't sell your products on the local market. Products have to stay in the free zone and for export to other countries," Fouad says.
If for instance a company imports used vehicles, it pays 33% of the value of the car in import tax, but does pay any more tax when exporting the car to another country. But that company is not allowed to sell the car in Djibouti.
Because of the cultural similarities, there is huge potential for Ethiopians to do business in Djibouti, according to Fouad.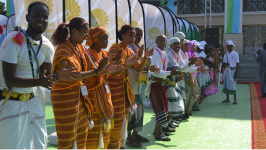 "Currently we only see Ethiopians engage in the transit business. They should also consider investing in other sectors such as real estate, tourism, hotel and importing agricultural produce from Ethiopia," he says.
For those interested in real estate the government can for example sell land for building 3,000 houses for around $200,000, according to Fouad. He says if one real estate developer invests around $5 million, the company can enjoy a tax-holiday of from five to ten years.
"The business prospects in this neighborhood are very positive. With the election of a new prime minister for Ethiopia who has made peace with Eritrea, which in turn has also made peace with Somalia, the future of this region is very promising," Fouad of Global Chamber Djibouti says.