Nissan records growth in South Africa after best year 2000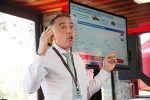 Nissan, the Japanese manufacturer hit 10% market share in South Africa in fiscal year 2017, with passenger vehicle sales growing by 44% versus the previous year. It has had its best twelve months of sales in South Africa since the year 2000.
In bakkies Nissan took a share of 19.5% up by nearly a fifth. Datsun sales rose to 1.3%, the brand's highest market share in South Africa since 1981. In Sub-Saharan Africa sales also grew, rising to 13.9%.
The sales success came on the back of product launches including the Patrol, X-Trail and Micra Active. Nissan also focused on customer service, winning 8 awards during the year.
"Nissan is now poised to build on our success with further growth in Africa," said Mike Whitfield, Managing Director of Nissan South Africa. "We have invested almost R1 billion rand to increase the efficiency of our plant at Rosslyn increasing automation without reducing jobs, and in training and skills development for our people."



Nissan has developed its supplier base with initiatives to encourage young black entrepreneurs to become suppliers. The company continues to produce a high number of engineers at Rosslyn through its graduate development programme and has been supporting South Africa employees to become master trainers by sending them to Nissan manufacturing plants across the world.
To drive future growth Nissan will focus on further developing its dealership network in South Africa with an improved customer experience and enhanced facilities. The company will continue to work to increase its share of the passenger vehicle market, while maintaining its strong position in bakkies.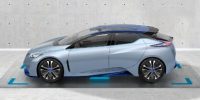 Nissan was the first manufacturer to introduce an electric vehicle to South Africa, with the Nissan LEAF launched locally in 2013. Globally more than 300,000 units of the LEAF have been sold, more than any other electric vehicle.
"The global automotive industry is going through revolutionary technological change, with electric vehicles, autonomous driving and connectivity," said Mike Whitfield. "South Africa has the potential to lead Africa in embracing this change, and the automotive industry here and the economy stand to benefit. To do that we need to ensure that the infrastructure and support is in place in South Africa to help build demand for these products."
Rosslyn is Nissan's manufacturing hub for the rest of the continent where demand is growing rapidly. Africa's middle class is forecast to grow from 137 million people in 2009 to 341 million by 2030. Nissan was the first mover to assemble cars in Nigeria, supplied from South Africa and is now exploring new manufacturing opportunities in the continent.
"Africa has huge potential but not every country can have a plant and manufacturing hubs need to be developed," said Mike Whitfield. "The automotive industry has been a driver of economic growth around the world for a century, and Africa will be next. What is needed now is a conducive environment, including the further development of free trade areas, for the continent to flourish."
Nissan is a global full-line vehicle manufacturer that sells more than 60 models under the Nissan, INFINITI and Datsun brands. In fiscal year 2016, the company sold 5.63 million vehicles globally, generating revenues of 11.72 trillion yen.
Nissan has a global workforce of 247,500 and has been partnered with French manufacturer Renault since 1999. In 2016, Nissan acquired a 34% stake in Mitsubishi Motors. Renault-Nissan-Mitsubishi is today the world's largest automotive partnership, with combined sales of more than 10.6 million vehicles in calendar year 2017.