New steel factory goes operational in Ethiopia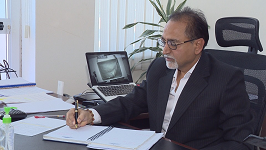 A new steel factory built in Bahir Dar, City, Amhara Region of Ethiopia with 800 million Birr investment capital goes operational on Friday.

RAVAL Steel Manufacturing PLC is located in Bahir Dar Industry zone and is led by MR BHAVESH RAVAL. The factory has been active in supporting the local community including feeding some 400 people in the area, providing clean water, and donation of 5 million Birr to Amhara region supporting the fight against COVID-19 pandemic.



Currently the factor has created jobs for 500 permanent employees and is expected to recruit 500 more and utilize additional 20,000 temporary workers. RAVAL Steel Manufacturing is the biggest steel factory in Amhara Region. The factory is expected to save up to $50 million hard currency the country spends to import steel.
Amhara Region is one of the places huge iron ore reserve is found in Ethiopia. Meanwhile no company has started mining iron-ore in the country so far. Even though there are about a dozen steel factories in Ethiopia, most them use scrap iron and import the raw to convert it into various steel products.