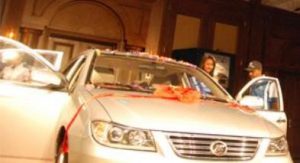 By Luc van Kemenade for newBusinessEthiopia.com
With public purchasing power on the rise, Ethiopia's small but emerging middle class yearns to cruise around Addis Ababa in style.

A model by Lifan motors, Former Partner of Holland car plc now its market competitor They refuse to pay sky-high import taxes for second hand cars. Instead, they prefer driving around in home-grown vehicles.
The supply of new models assembled in Ethiopia increases and this is reflected in the streets of the capital city. More often the "Ethiopian" cars appear among the chaotic traffic that is still dominated by rundown Lada cabs and Toyota Corollas.
It costs a small fortune to get a second hand vehicle from the West through the port of Djibouti into landlocked Ethiopia. Although taxes have been reduced, they can still rise up to over 100 percent of the purchase value plus the transportation costs, i.e. unaffordable to many. For a twenty years old Toyota Corolla, for example, you pay 12,500 euro.
The solution is simple: import spare parts, from China for example, and assemble them in a factory with relatively cheap labour. Although a simple strategy, it's quite unique on the African continent. Various investors in Ethiopia saw the opportunity and grabbed it, Holland Car, a Dutch-funded company, being the first.
A model by the Pioneering car assembly in Ethiopia- Holland car plc
Sishah Yohannes, a forty-year-old captain at Ethiopian Airlines, drives his Ethiopian-assembled Holland Car Awash for a month now. "I'm really proud when I see the name written in Amharic on the back," he says while parking at the Bole Medhane Alem Church. "This is what I've been waiting for: a good Ethiopian product after all this talk about economic growth."



Holland Car's general manager, Tadesse Tessema, convinced the Ethiopian government to lower import taxes on spare parts, making the business even more attractive. Shortly after, he presented three models, all named after Ethiopian rivers: Abay, Tekeze and Awash. Recently they launched a new family car: Shebele.
Other car assemblers followed suit. First there was competition from Holland Car's former Chinese partner. Yangfan Motors launched three models of its Lifan Cars in Ethiopia. One of them shows resemblance to Holland Car's Abay. The two companies split after a dispute and used to produce the model together.
A nice spectacle in the streets of Addis is Lifan's Mini-Cooper look-a-like, the Lifan 320. The company prefers to describe it in masculine terms as a "mini-SUV with the power of a bear", but it's a "typical lady's car", according to car salesman Thomas Mulune.
The latest competitor for the passenger's car market is Hyundai. The South Korean company enters Ethiopia with heavy artillery, Haile Gebreselassie being its ambassador, investor and sole importer. The assembly plant is under construction and personnel are to be trained to assure "international standards", the successful athlete said.
A model recently assembled by BH Trading and Manufacturing Plc
Satisfied with the competition in the market he initiated, Holland Car CEO Tadesse is preparing for a new step. He's building a gigantic plant that will be finished in two months. From that day, he will slowly reduce the import of parts and work towards producing full Ethiopian cars.
"As a pilot, I'm can choose between different cars from all over the world," Sisha says. "But I prefer to encourage guys like Tadesse and Haile by buying Ethiopian ones. If the quality is there, of course."