Arada gets popularity in Ethiopia within few months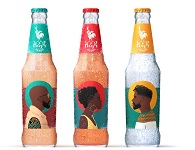 BY ANDUALEM SISAY GESSESSE – A new alcoholic drink, Arada, enters Ethiopia's beverage industry and gets popularity within the first few months of its launching. Here is how a few friends adventure resulted in introduction of a new drink category to Ethiopian beverage industry.

It all began four years ago when Ojeuna Mekconenn and his friends said, "we got tired of drinking beer. Why there is no alternative in the city (Addis Ababa)?" "…Then we decided to partner up and start this great venture by accident because we got bored of beer," says Ojeuna, who was engaged in banking sector.



The young friends then brought aboard different experts, who have experiences in the beverage and beer industry of Ethiopia, including the current CEO, former Awash Winery manager. Finally, the team setup a company named, Komari – meaning someone who makes alcoholic drink in Amharic language.
The adventure finally resulted in mobilizing required investment capital by securing 26 million Birr.  Komari setup a factory that introduced a new beverage category to Ethiopian market a few months ago.
Last May Komari launched three flavors of new drinks with 5 percent alcohol concentration branded Arada. Not long after, the products become popular among the youth in the capital Addis Ababa, Adama, Bishoftu and Debre Birhan cities.
Unlike beer Komari's products do not go through fermentation process. Before developing the final products, the company has consulted with some 10,000 Ethiopians to find out what kind of beverage taste they like the most, according to Amity Weiss, CEO of Komari.



"Because of COVID-19 our final product was tested by 1,200 people and favored by most of them," she says, indicating that it is locally developed product based on the taste preferences of the local people.

The factory located in Amhara Region Cheki area 96 kilometers from Addis Ababa, has the capacity to produce 27,000 bottles of Arada in an hour. Currently it has created 135 permanent jobs with some 175 temporary employees, according to Ojeuna Mekconenn, who is now serving as Deputy CEO of Komari.
Partly financed by Dashen Bank Share Company, Komari is currently distributing its products in Addis Ababa, Bishoftu, Adama and Debre Birhan. Finding high quality supplier was a challenge initially according to Amity. "Finally, we managed to find a company called, VIV, which is located some 10 kilometers away from where our factory is located," she said.



In addition to the three flavors pineapple, apple, and Lemon, Komari is set to introduced a new flavor for the new Ethiopian Year – September 2021, according to the CEO.