Ethiopia generates $3 billion selling state enterprises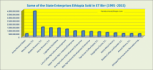 By Andualem Sisay Gessesse – The government of Ethiopia has privatized 290 companies in 14 years from 1995-2015, according to the information obtained from the agency in charge of supervising and selling state enterprises.

The companies are sold for a total of 35,899,891,001 birr (around $2.6 billion on average exchange rate). In addition, the country has also secured around a billion dollar by selling state enterprises over the last few years.



The major state owned companies sold include gold mine, large coffee farms, three breweries, winery, soft drink factories and mineral water, cement and cement factories, agro-processing companies and food complexes. Warehouses, stores and villas are also included in the list.
The buyers range from the ruling party endowment, regional government enterprises and cooperatives union to Metal Engineering Corporation (METEC), whose officials are now in jail for grad corruption, the Ethio-Saudi tycoon Sheik Mohammed Hussein Ali Al-Amoudi and many foreign companies.
The top income generating in the list is the National Tobacco Enterprise (Ethiopia) S.C, which is sold for 12,616,800,000 birr. The government sold 60% of company's asset for two companies – Sheba Investment Holding Limited in January 2015 and IT International S.A. in July 2016. While IT International S.A. secured 40% of the company offering 11,362,800,000 birr, Sheba Investment Holding Limited got 22% share at the company offering 1,254, 000,000 birr.
The remaining 38% share of the company was retained by the government at the time till recently sold to a Japanese company.
The next top on the list in terms of generating huge amount of money for the government is Meta Brewery S.C, which was also sold to Diageo for 3,865,486,984 birr in November 29, 2011.
Bedele Brewery S.C. and Harer Brewery S.C. were sold for 1,445,414,313 birr and 1,322,456,937 birr respectively, to Heineken International BV in March 8, 2011.
Legedembi Gold Mine was bought for 1,290,429,153 birr to MIDROC of Sheik Al-Amoudi. MIDROC has also bought Upper Awash Agro-industry Enterprise for 860,000,000 birr in March 2013. The report shows Wush Wush Gumaro Tea Production and Marketing Enterprise is also transferred to MIDROC for 222,696,020 birr.
Al Amoudi's Horizon Plantations has also bought Limu Coffee Agriculture Development for 1,136,486,000 birr in September 2013. Horizon has also bought Coffee Processing and Warehouse Enterprise for 228,200,000 birr in March 2013. The company has also bought Bebeka Coffee and Estate S.C. for 459,410,036 birr in August 2012.
Arsi Agricultural Development Enterprise and Bale Agricultural Development Enterprise are also sold for 859,318,948 and 774,603,160 birr respectively, to Oromia Seed Enterprise in June 2013.
The Missing
Meanwhile the list published in the news bulletin of the Agency in June 2016 only included the income Ethiopia secured selling 33% of Ambo Mineral Water for 443,134,876 birr in March 2008 Ethiopian calendar (2015).
Meanwhile it is not clear why the amount of money Ethiopian government got from selling 67% of Ambo Minerals before 2015 is not included.
In addition to the 290 companies listed in the news bulletin, Ethiopia has also sold several companies over the past two years, which among others includes, selling Assela Malt Factory to Oromia Cooperatives Union for 1.3 billion birr.
This brings the total amount of money the country earned from privatization to around $3 billion including the estimated earnings not disclosed from 67% value of Ambo Mineral Water.
Currently the rebranded agency, which in charge of managing and selling state enterprises, is supervising dozens of companies. This includes the recently included into its mandates mega state enterprises such as, Ethiopian Airlines, Ethiopian Shipping and Logistics Enterprise, Ethiopian Electric Power, Ethio Telecom and Commercial Bank of Ethiopia, among others.
EDITOR'S NOTE: Investment companies and research institutions interested to purchase a soft copy brief report on Ethiopian Privatization containing the 290 companies list, name of each buyer, contact value and date of each transaction.
In addition, the report also contains financial status of 35 companies, which were under the privatization agency, such as Ethiopian Airlines, Ethiopian Electric Corporation, Ethio Telecom, Ethiopia Shipping and Logistics Enterprise, etc…
The financial standing of each company includes current asset, fixed asset, total asset, current liability, long term liability, total liability, net equity and paid up capital with 2015 audit period for most state enterprises and by 2014 for some companies.
If interested you may drop a request email to editor AT newBusinessEthiopia.com to get the download link to purchase the 'Brief Report on Ethiopian Privatization'.