Ethiopian Airlines acquires 49% share in Chad Airlines
Ethiopian Airlines Group, which owns shares in in four African countries' airlines, has announced its fifth joint venture with the Chad government buying 49%.
The new Chad national carrier is planned to go into operation as of October 1, 2018. The so far state monopoly Ethiopian Airlines Group, which is also set to partly privatize its minority share, has shares in Malawi, Togo, Guinea and Zambia airways.



"The strategic equity partnership in the launching of the new Chad national carrier is part of our Vision 2025 multiple hub strategy in Africa," said Mr. Tewolde GebreMariam, Group CEO of Ethiopian Airlines.
Expanding its presence across the continent, so far Ethiopian Airlines have bought shares in Malawi Airlines, Asky in Togo and Zambian Airways, which ET owns 45% share. The fast growing Africa's airline has also been in negotiations with other African countries in what the CEO described as boosting African airlines market share from the current 20% to at least 50%.
"The new Chad national carrier will serve as a strong hub in Central Africa availing domestic, regional and eventually international air connectivity to the major destinations in the Middle East, Europe and Asia," the CEO said.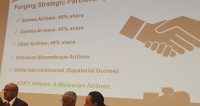 He also thanked President Idriss Deby Itno, the Government of Chad and the stakeholders in the aviation sector in Chad for their strong support to the project.
Ethiopian Airlines Group is also making preparations to launch Ethiopian-Mozambique Airlines, according to the press statement the airline sent.