Ethiopia tax income up 17 percent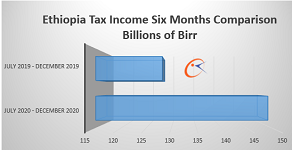 The Government of Ethiopia has collected a total of 149.2 billion Birr the first six months of current budget year started July 8, 2020.

The money the country collected is about 21 billion birr more than (17 percent) the amount it has collected same period the previous year. The plan of the Ministry of Revenue of Ethiopia for the period was to collect some 146.9 billion Birr, according to Lake Ayalew, Minister of Revenue, who briefed reporters this morning about the performance of the Ministry during the first half of the year.



Serious auditing of companies which reported losses with the aim of avoiding taxes, has helped the Ministry to increase its tax collection, according to the Minister. Of the total 149.2 billion Birr, 93.3 billion Birr was collected from domestic taxes, which 27 percent more that the money collected same period the previous year. The six months report shows that from import tax the country has secured 55.7 billion Birr tax.
The Minister stated that the performance of the Ministry is encouraging in the face of challenges mainly coronavirus and rule of law operation in Tigray region of Ethiopia, among others.