Ethiopia – Lion Bank profit drops by 309 million Birr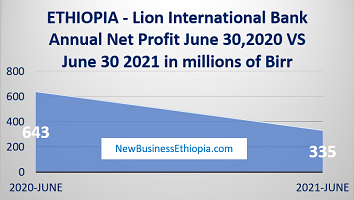 The annual profit after tax of Lion International (LIB) Bank of Ethiopia, which most of its branches based in Tigray region, for the year ended June 30, 2021 has declined by about 308.7 million Birr from previous year.

During the year LIB has earned a total of close to 335 million Birr profit after tax, while its profit for the previous year was 643 million Birr. This is indicated during this week during the annual meeting of the shareholders of the Bank at the Hilton Hotel in Addis Ababa.



"We have told the management during the previous years' annual meeting not to concentrate their branches in one place – Tigray Region. But they didn't listen to us. Now they are telling us the profit has declined because of the conflict in Tigray Region," one shareholder told NewBusinessEthiopia.com.
In Ethiopia it is not common for private banks to report declining annual profit from the previous year. The private banks have been reporting increase of their profit between 20 to 50 percent year after year.
Meanwhile two years ago, Wegagen Bank with major shareholders also from Tigray region, has reported a decline of its annual profit before tax by $10 million at the exchange of that time.
The annual statement of LIB for the budget year concluded June 30, 2021 also shows that there is no significant increase of the total assets and total equity compared to the previous year.
The total assets of LIB have increased to 32.2 billion Birr from 31.78 billion Birr the previous year. Likewise, the total equity of LIB has increased during the year in review by about 159 million Birr to 3.64 billion Birr from the previous year.
"…Our bank has managed to disburse loans and advances of 5.4 billion Birr (an increase of 14.4 percent over the preceding year), raising the outstanding loan balance to 21.8 billion Birr. With the overall business slowdown that impacted the repayment capacity of borrowers, loan collection has been negatively affected," Gebrehiwot Ageba (PhD), LIB Chairperson of Board of Directors said, in its message published on the annual report.



"As a result, total non-performing loans to total loans (NPLs) ratio has grown much higher than the 5 percent threshold set by the National Bank of Ethiopia and the industry average: this triggers cautious attention of the Board and Management to regulate bad debts," he said.
In Ethiopia most private banks either owned or their major shareholders are people from same region or same ethnic group. As a result, the performance of these banks has been at the mercy of the shocks or crisis happening in a certain part of the country like the one in Tigray region.