Ethiopia collects $2.83 billion tax in four months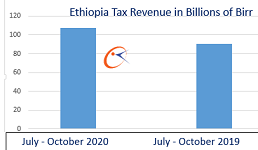 The Ministry of Revenue has collected a total of 107 billion Birr ($2.83 billion) during the first four years of the current budget year started July 8, 2020.

The amount of tax the country has collected is 17 million Birr more than the amount it has secured same period the previous budget year. At a press conference this morning, the Minister of Revenue Lake Ayalew indicated that his organization has achieved 103 percent of its target for the period.



Out of the total 75 billion Birr (Close to $2 billion) is collected from domestic tax revenue, while close to 37 billion Birr is obtained from import tax.