Flooding kills two people in Ethiopia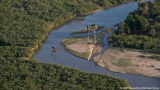 BY ELIZABETH EQUBAY – Flooding around Libo Kemkem area of Amhara region of Ethiopia today kills two people, state broadcaster reported.

The flooding is caused by overflow of Reb River and its subsidiaries, according to EBC report. The flooding has also caused damage on properties and farms of the farmers who live in the surrounding. Currently three boats are engaged in transporting the farmers to safe areas. Meanwhile because of the shortage of fuel the boats have not been able to continue their rescue mission, according to the report.



In a related development, this morning Engineer Ashebir, Manager of Reb Dam, which is built on the currently overflowing Reb River, told EBC that the Dam will release the water filled in the dam to night. He stated that his organization has been warning the public to take precautions to avoid property damage and other disasters when the water in the dam will be released.
On the contrary, as a result of Illinois induced climate change some parts of Ethiopia especially in Tigray area are witnessing shortage of rainfall, which might lead to drought, according to the latest metrology forecast.