U.S. Embassy Inaugurates Satchmo Center Public Engagement Space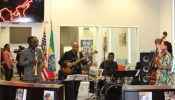 The United States Ambassador Michael Raynor officially inaugurated the new state-of-the-art Satchmo Center named after the famous African-American Jazz Musician Louis Armstrong. It is located in the U.S. Embassy in Addis Ababa.  
The Satchmo Center is equipped with state-of-the-art technology and offers a wide variety of programs to the Ethiopian public through a free membership program.
Mr. Armstrong not only played a crucial role in the development of jazz music, but was an advocate for equal rights and desegregation, even as he helped share American values through the State Department's Jazz Diplomacy initiative in the 1950s and 1960s.
In his remarks at the event, Ambassador Raynor said, "The reinvigoration of the Satchmo Center, and the work of the Embassy team to make this space more accessible to the public, is recognition of the importance of our people to people connections."
The Embassy invested over $50,000 dollars (ETB around 1,350,000 million) to renovate and upgrade the space, which includes new technologies and welcoming spaces for engagement.
Members of the Satchmo Center enjoy free access technologies such as a new interactive wall screen, a 3D printer, DVC facility, a ViewSonic interactive kiosk, and a media lab with green screen, cameras, and editing software. There are also a number of iPads, Chromebooks, Kindle's and computers available, as well as access to the latest eGranary academic database for research.
Members are also welcome to attend programs such as English language clubs, the Conversation Café, as well as a variety of topical events featuring expert speakers from both the United States as well as Ethiopia.  The space also features a range of movies and books available to members.
The Satchmo Center is a central part of the American Spaces Ethiopia platform. Access to Satchmo Center is available with free membership badge anytime during operating hours.