State enterprises in Ethiopia generate $1.4 billion revenue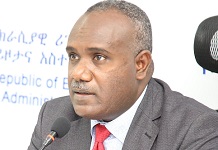 The state enterprises of Ethiopia have generated a total of about 59.8 billion Birr (close to $1,4 billion) revenue before tax during the first nine months of the current Ethiopian budget year started July 8, 2020.

This is indicated by the Public Enterprises Holding and Administration Agency of Ethiopia, which evaluated the performances of the twenty state enterprises during the stated period. The state enterprises have achieved 127 percent of their plan for the period. Including Ethiopian Airlines Group and Ethio Telecom 11 of the state companies have generated 5.66 billion exporting their services and products.



The Agency in its evaluation report indicated that the state enterprises have delivered services and sold products worth 246.5 billion Birr ($5.76 billion) during the nine months. The report stated that the enterprises have managed to achieve more than their target because of the reforms executed within the companies and close collaboration of the board that oversees the performances of the enterprises and the management team.