Experts to reflect on Africa's Blue economy in Mauritius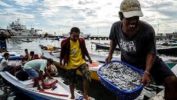 The UN Economic Commission for Africa (UNECA) office for Southern Africa is set to organize the Intergovernmental Committee of Experts (ICE) of Southern Africa on the theme, "Blue Economy, Inclusive Industrialization and Economic Development in Southern Africa".

The 34th Session of meeting scheduled from the 18th – 21st September 2018 will be hosted by the Government of Mauritius.



The 24th Session will focus on the blue economy, opportunities and challenges in Southern Africa and will specifically discuss its prospects for fostering inclusive industrialization and sustainable development in the region, according to the press statement from UNECA.
The meeting will critically examine how the blue economy sector can be a new and major frontier of economic development in Southern Africa by facilitating production, investments, job creation and the reduction of poverty and inequality in the region.
The meeting will also engage on how land-linked and land-locked countries can be part of, and benefit from the value chain of production in the blue economy sector and as proffer appropriate recommendations.
Deliberations during the 24th ICE will include an Ad-hoc Expert Group meeting (AEGM) on the theme: The Role of Small and Medium Scale (SME) Enterprises in the Industrialization Process in Southern Africa" being co-organized with the SADC Secretariat, which will take place from 20-21 September 2018.
Participants will include senior government officials, private sector representatives, civil society organizations, representatives of regional economic communities, academia and research institutions and other United Nations agencies among others.
The ICE is a United Nations (UN) General Assembly policy sub-organ of the Economic Commission for Africa (ECA) Conference of African Ministers of Finance, Planning and Economic Development.
It is established to promote a forum for engaging member States' senior policy makers (Senior Governmental Officials) on current and pressing issues affecting socio-economic development in the region.
Past ICE meetings have attracted high-level participation from a wide pool of stakeholders from member States, private sector, academia, international and regional development partners, civil society and the United Nations system.
Both the ICE and AEGM, provide a forum for exchanging ideas and sharing lessons from a diverse pool of expertise and experiences through round-tables, presentations and open discussions.