Prosecutor charges Ethiopia's military company head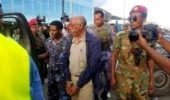 The federal prosecutor of Ethiopia on Thursday opened grand corruption charges against the director general of the military owned metal Engineering Corporation (METEC), Major General Kinfe Dagnew along his partners for the crimes.

He is charged for violation of the purchasing procedures of METEC. The four rand corruption charges against General Kinfe are related to over a thousand tractors purchase, which caused the country to lose millions of dollars.



The prosecutor in its first charge stated that General Kinfe along with the 8th suspect under custody, Mr. Remedan Musa, has made purchase of 1,050 tractors for 11,885,700 euros from a Serbian company called, IMR, for without any bid process. In the process of the purchase Mr. Remedan Musa has get paid 30,000 euros commission.
Because the purchase was spontaneous, lacks feasibility and the tractors are made for cold weather, currently most of them are out of service. The country has lost an additional 27 million birr (close to $1 million) because METEC has not sold the tractors so far.
In its second charge the prosecutors indicated that general Kinfe along with the 3rd suspect, Colonel Desse Zeleke, who was serving as head of Adama Agricultural Materials Engineering Industry, and the 4th suspect Colonel Getnet Kindeya has made purchase of 5,500 tractors for 18,760,000 euros without any bid process.
The prosecutor stated that the tractors are purchased without any spare parts. In addition because 892 of these tractors are not sold, the government has incurred a loss of over 2,500,000 birr.
In the third charge, the federal prosecutors indicated that General Kinfe along with Colonel Desse Zeleke and Colonel Getnet Kindeya have made illegal purchase of 50 tractors for 5, 540, 000 euros from a Turkish company without any bid process. Out of these 374 tractors are not sold and damaged of which parts of 125 tractors are also taken. As a result the government has incurred an additional loss of more than 4,612,900 birr.
The prosecutor in its charge indicated that when he was head of METEC, General Kinfe has allowed violations of the purchasing procedures of the company and also and signed on many deals.
The prosecutor stated that the suspects have violated the 1996 Ethiopian Calendar criminal law of the country and were engaged in grand corruption by misusing their power for personal benefits. To support its charges the federal prosecutor has brought to the Federal High Court Lideta 15th criminal bench testimonies of 24 individuals and many supporting documents.
The Court has ordered the lawyers of the suspects to defend the charges appearing after 15 days on January 25, 2019.
Among the suspects the prosecutor charged for grand corruption Colonel Getnet Kindeya, the 5th suspect Colonel Goytome Kebede and the 7th suspect Eleni Cherinet are not arrested. The court has ordered the federal police to find and detain them.