Ministry of Justice launches investigation on TPLF crimes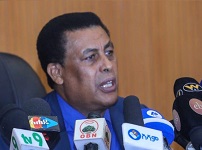 The Ministry of Justice of Ethiopia has announced that it has started an investigation into the crimes committed by the TPLF terrorist group in the Amhara and Afar regions since the government's declaration of the Unilateral Humanitarian Ceasefire last June.

The Ministry has announced that a standardized checklist is prepared to carefully document extrajudicial killings, injuries, displacements, destructions on heritage sites, public and private properties and bring perpetrators to justice.



This is indicated by Ambassador Dina Mufti, Spokesperson of the Ministry of Foreign Affairs of Ethiopia who briefed reporters today. Encouraging reports have been observed over the week in exposing the truth about the conflict in Ethiopia and genuinely reflected upon Ethiopia's interests, according to Ambassador Dina who mentioned the following as examples.
– A special report by Reuters entitled, "in Ethiopia war. New abuse charges turn spotlight on Tigrayan former rulers," has shown the atrocities and human rights abuses of the TPLF in the Amhara region.
"Why Ethiopia must not fall apart," an article by the Guardian and another article on 'Foreign Policy' by Professor Ann Fitz-Gerarld and Ms. Bronwy Bruton called on policy changes from the international community towards Ethiopia. The articles have called on the international community to see the atrocities that the TPLF has committed against innocent civilians and the democratically elected government of Ethiopia.
Citizen-centered diplomacy
In relation to citizen-centered diplomacy, Ambassador Dina stated that  State Minister, Ambassador Birtukan Ayano, the leader of the operational sector of the committee established to facilitate the Great Homecoming Challenge, said the committee has finalized schedules to smoothly run various events.
"She thanked Ethiopians, people of Ethiopian origins, and friends of Ethiopia for positively responding to the challenge reaffirming their continued support and unwavering commitment to stand by Ethiopia in times of its needs. Participants in the Home Coming Challenge, among others, are scheduled to visit tourist destination sites in Ethiopia, including celebrating Gena (Ethiopian Christmas) at Lalibela and Timiket (Ethiopian Epiphany) in Gondar."



Dr. Tilahun Goshu (Mihret Medical Supply) and partners from the US have shipped four containers of fortified meals, medical equipment, medical supplies and one container full of life-saving medications to Ethiopia, worth $4.8 million to heal and restore health facilities in Ethiopia.
Ethiopians and people of Ethiopian descent in Rome, Torino, Milan, Parma, Perugia, Trent, Bari, and Athens have raised 120,783 Euros for people uprooted by TPLF's destructive activities. The fundraising events in Italy and Greece have continued with unwavering support from Ethiopians and people of Ethiopian origins residing in the countries.